Nashua day-care center closing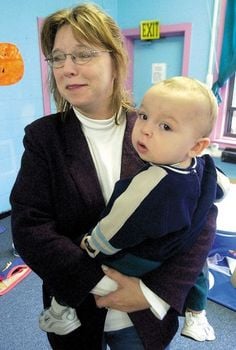 NASHUA – A week ago, Miguel Lopez found the perfect child-care facility for his stepgrandson, 2-year-old Jose Barrios Jr. The center charged only $20 a week and employed a teacher who could communicate with Jose in Spanish.
Next week, he's taking Jose somewhere else.
The Greater Nashua Child Care Center, a facility that charges parents based on their ability to pay, announced Tuesday that it will permanently close its doors Oct. 29 for financial reasons.
Parents and guardians of the 65 children enrolled were given 10 days to find replacement child care.
Jamie Hassen was on the verge of tears Tuesday as she picked up Ali, her 13-month-old son. Hassen takes classes during the day and works at United Parcel Service at night. She can find a baby-sitter for the evenings, but has no idea where she will find quality child care for Ali while she's at school.
"I don't want to move him out of here because he's going to miss them so much. He loves it here," Hassen said, holding Ali in her arms. "I'm really sad."
Rosa Levesque, who has worked at the GNCCC for 11 years, said the organization would need $150,000 to stay in operation. Levesque has three grandchildren at the center and was devastated Monday when employees were informed of the impending closure.
"We cried," Levesque said. "We cried when we found out; we cried last night. We didn't get any sleep."
The GNCCC, which has been in operation since 1968, has been in financial trouble for several years, board member Mark Benoit said. Benoit cited the rising cost of workman's compensation, a decrease in funding from grants and other agencies and the cost of building repairs as factors in the center's demise.
Benoit said the GNCCC would not be able to continue paying its staff or bills with the income it is receiving.
The agency has only three sources of guaranteed income every year – the city, the United Way of Greater Nashua and parent fees. This year, the city stopped providing its annual $10,000.
Maureen Lemieux, director of the administrative services division for Nashua, said nonprofit program funds are disbursed after being reviewed by a board of commissioners.
Lemieux said the board reviews each agency separately to determine where the money is most needed. She said the request for funds is always greater than what is available.
After reviewing the center's application, the board determined that the GNCCC would not receive city funding this year because there are several other low-income childcare agencies in the area and because the agency did not submit a budget, among other reasons.
"No clear and compelling argument is made for this program," the board wrote in their report.
The United Way saw a 6 percent decrease in their funds this year, which was passed along to the agencies they assist. President Don Mattise said all nonprofit organizations received a smaller amount of aid than usual.
Mattise said the GNCCC did not survive because it wasn't drawing enough money from parent fees. Some parents need to pay full tuition in order for a low-income childcare center to survive, he said.
"There needs to be a mix of full-paying clients and subsidized clients to make it work," Mattise said.
Benoit said almost 100 percent of the center's families pay a reduced fee.
Benoit mentioned the condition of the GNCCC's building – The Tacy House – as a financial burden. The building, constructed in 1908, needs its entire roof replaced this year. The agency has already closed a classroom because of leaks and water damage, Benoit said. The roof will not last another year and the GNCCC cannot afford to repair it, he added.
Benoit said no one factor is solely responsible for the center's closing. He said the $10,000 from the state or the extra 6 percent from the United Way would not be enough to make or break the agency at this point.
With the closing inevitable, employees now worry about where the children will go because similar organizations don't have the room and parents cannot afford full-price centers.
"This is one of the cheapest places," Levesque said. "Where are they supposed to go?"
Benoit and the center's director, Heather Ransom, provided parents with a list of similar childcare centers to contact when they gave them the news.
GNCCC board member Steve Donahue said they are working with agencies to place the children in other daycare programs. He said the board did everything it could to avoid having to close.
"We're really saddened by it. It's something we've striven for the last few years to avoid, but it's inevitable," Donahue said.
He said they have already spoken to an agency with 36 open slots. He is optimistic about their ability to relocate all of the children in the next few weeks.
Parents and guardians like Cindy Perrault are not so confident they will quickly find a center that is as affordable and takes such good care of their children.
"You might as well just say you're leaving him with no day care," she said.