Nashua-based laser micro manufacturer opens Lightspeed lab in San Diego
Resonetics expands processing capabilities for medical clients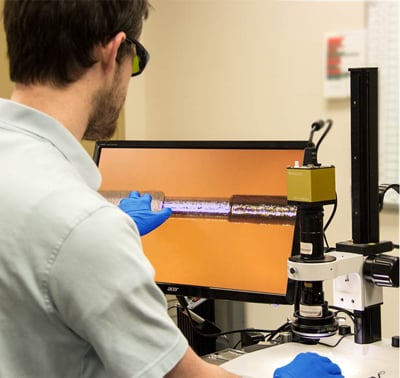 Nashua-based laser micro manufacturer Resonetics recently announced it is adding a Lightspeed ADL (application development lab) to its manufacturing site in San Diego, Calif.
The site will offer a range of micro manufacturing tools to service medical device and diagnostics customers and will feature various laser wavelengths optimized for polymers, glass and metals. The San Diego facility will also add Nitinol processing capabilities including femtosecond laser cutting, shape setting and finishing, and laser welding.
"Since opening our San Diego facility in November 2015, the response from our customers has been very positive" said CEO Tom Burns in a press release. "They value the benefit of a local manufacturing option and it's a natural extension to add prototyping and process development capabilities where the advantages of proximity and direct contact with our engineering team are even more important."
The San Diego site will become the company's Nitinol center of excellence and will feature a full complement of Nitinol processing capabilities focused on the micro scale dimensions required for the latest technological advances in neurovascular, electrophysiology, and structural heart products.
Leading the effort will be Technical Fellow Jose Maeso, who joins Resonetics with an extensive background in Nitinol processing and medical device manufacturing at Medtronic CRM and Neurovascular, as well as Abbott Vascular.
"We're excited to bring Lightspeed ADL capabilities to the West Coast, complementing our labs in Boston, Dayton and Minneapolis" said CTO Kevin Hartke. "Jose brings a wealth of experience working with Nitinol that will complement our laser processing skillset and allow us to establish full development and pilot production capabilities by the end of the third quarter."
Resonetics plans to offer Nitinol volume production in its U.S. and Costa Rica facilities.