Nashua area shows support for soldiers overseas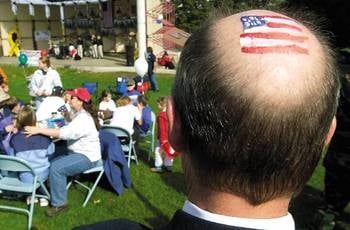 NASHUA – Leslie Baron has a 2-month-old daughter who doesn't know her dad. She fears they might never know one another.
"He may not be here for her first birthday," she said.
Baron's husband is stationed in Iraq with the New Hampshire Army National Guard. Baron does not support the war ­- she wants her husband to be home with his family – but she does support the sacrifice he and his fellow troops are making.
Saturday, Baron came to Greeley Park to join other soldiers' families, veterans and area residents in a support the troops rally. The lawn turned red, white and blue as hundreds raised their flags to salute the men and women overseas.
Families of soldiers in the 1st Battalion, 172nd Field Artillery of the New Hampshire Army National Guard organized the event. Gov. Craig Benson, Mayor Bernie Streeter and U.S. Rep. Charlie Bass all stopped by to say thank you to soldiers and their families.
Paul Stone, a National Guard soldier on two-week leave from Iraq, attended the rally wearing his desert camouflage. He appreciated the public's effort to show him that they are thinking of him and his comrades.
"It's excellent," Stone said. "It's great that they came out and supported us."
The afternoon rally also gave people
the chance to send words of encouragement to troops currently in Iraq. People filled out postcards and recorded video messages to send to the men and women overseas.
Symbols of pride – both tangible and intangible – were abundant. Almost everyone held a miniature flag, women wore T-shirts that read "I Support My Husband" and children had yellow ribbons painted on their faces.
When the ceremony began with the singing of the national anthem, a still fell over the crowd. Veterans and soldiers stood resolutely in a salute and civilians placed their hands on their hearts.
Vietnam veteran Alan Olsen attended the event because he knows exactly what it's like to fight in a war many people oppose. Olsen was spit on at the airport when he returned from fighting for his country more than 30 years ago. He doesn't want the troops to feel like he did after serving two tours as an Army helicopter pilot.
"There is a tremendous amount of negativism (about the war)," Olsen said. "They need to know that the American people care about them."
Dressed in a leather vest decorated with Vietnam patches and hat displaying his bronze star, Olsen said he has regular correspondence with soldiers who say the positive things they are doing are not being noted in the United States.
"The good things that are going on are not getting home to you and me," Olsen said.
Baron said it is difficult for morale when soldiers feel as though the public doesn't support them. The longer they are away, she said, the easier it is to get discouraged.
William Paige, senior chaplain for the New Hampshire National Guard, said efforts like Saturday's rally give soldiers the encouragement they need.
"It's important for them to see that the people at home love them, support them and encourage them," Paige said.