N.H.-to-Boston commuter rail inches ever closer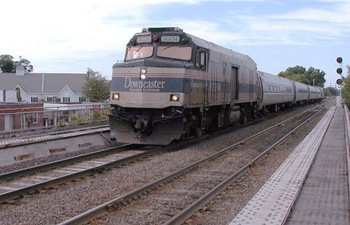 Imagine driving in a snowstorm to Boston for a meeting – slogging through gridlock, avoiding accidents, paying through the nose for gas.
Now, imagine making the same trip, but this time you park in a modern garage, hop on a train, have a bagel on the way, and prepare for the meeting using your laptop's wireless Internet access.
Mike Izbicki, who serves on the New Hampshire Rail Transit Authority, is optimistic that rail travel to Boston is only five to seven years away, because plans for a Manchester to Boston line are gathering momentum.
"Rail could revitalize the country, as it did a long time ago," said Izbicki, who is chairman of the Bedford Town Council. "We are seeing a cultural shift in how people get around. People are driving less and mass transit ridership is breaking all kinds of records."
If all goes well for Izbicki, riders will be able to enjoy a commuter rail system that could transport people from Manchester, Bedford and Nashua to Boston's North Station.
The last time passenger rail from Nashua to Boston existed was 1967, according to the Nashua Regional Planning Commission. The Reagan administration killed attempts to resurrect it during the 1980s.
"Currently, the morning commute from Nashua to Boston takes an average of two hours. The need for an alternative to vehicular travel is only increasing," states the commission's Web site. Traveling from Nashua to Boston by train would only take about an hour, according to Wayne Gagne, chairman of the New Hampshire Commuter Rail Advisory Committee, formed by then-Nashua Mayor Bernie Streeter in 2005.
Gagne has been in rail for 35 years and works as a locomotive conductor in Massachusetts.
Last year, Gov. John Lynch decided to create the 27-member rail authority to try to bring rail back to the Manchester-Boston corridor.
The station in Bedford would likely go near the lumberyard near the Manchester-Boston Regional Airport access road. It would be modern, easy to navigate and compliant with the Americans with Disabilities Act, according to Izbicki. No site has been selected for Nashua yet.
Economic boost?
By the time commuter rail is implemented, the access road to the airport would be completed. The target date for the access road is 2013.
Southern New Hampshire Planning Commission Director David Preece said the cost of riding the rails has yet to be determined, but with gas prices continuing to climb it would be more economical than driving. A round trip to Boston by car is estimated at $100 when gas, parking and wear on the vehicle are considered, Izbicki said. He said funding could come from the federal government, the state, the private sector and local governments.
The only multi-stop passenger rail service in New Hampshire is Amtrak's Downeaster, which runs from Portland, Maine, to Boston, and makes stops in Exeter, Dover and Durham. The Vermonter makes a northbound and southbound stop each day in Claremont.
A Bedford-to-Boston line would make several daily round trips, like the Downeaster. It would create jobs, grow businesses and pump millions of dollars into the local economy, which in turn would reduce residents' property taxes, according to Izbicki.
Rail also would entice Massachusetts residents to come to New Hampshire for vacations, he believes. Other advocates say it would make Manchester more attractive to international fliers who are used to operating in cities where they can hop from a plane to a train.
The plans are still in the early stages of development, but two key tasks have been accomplished over the past year.
The first was to create the rail authority to oversee the project, and the second was for the governor to sign a law that capped liability for accidents at $75 million.
Gagne said the liability cap was a "huge" step, and if negotiations between stakeholders went well, passenger rail between Nashua and Lowell, Mass., could be established within three years.
Izbicki says the next step in the process is to determine how many riders would use the train. The cost of the study is being shared by Bedford, Manchester, Manchester Boston Regional Airport and the Southern New Hampshire Planning Commission.
The railroad tracks have already been laid, and they already carry freight trains, but they must be upgraded to carry commuter trains.
The New Hampshire Rail Transit Authority will develop the capital and operational costs of rail. The physical plans for the stations and the funding mechanisms need to be established.
Preece said that adding rail is the only way southern New Hampshire can stay competitive in attracting companies that offer high-paying jobs. Preece and Izbicki both said commuter rail would not change Bedford's rural town character because it would be zoned to stay in a confined area.
Having rail also would help drivers because it would remove vehicles from the highway. One train filled with people could remove 1,200 drivers from the road, according to Gagne.
NRPC says a University of New Hampshire poll suggests there is an "overwhelming" demand for passenger rail in southern New Hampshire.
Not everyone agrees that rail would be a worthwhile project. David Wheeler, a former executive councilor from Milford doesn't think it's viable financially.
During his time as executive councilor, Wheeler studied the potential of rail while working on plans to build the airport access road. "Someday it will make sense, but not yet," said Wheeler.
But people like Gagne and Izbicki are confident. "I've been in the industry a long time, and I can assure you about the ridership," said Gagne.
The Nashua Planning Board recently granted a one-year extension for the developers of the Nashua Landing lifestyle center proposed for the east side of Daniel Webster Highway north of Spit Brook Road. With the extension came new hope of locating a commuter rail station at or near the lifestyle center, which would be built on the former site of the Hampshire Chemical plant.
About four years ago, the developer of the Hampshire Chemical site poured thousands of dollars into discussions about a commuter rail station, meeting twice a month with city officials over a period of six months.
However, expanding commuter rail into New Hampshire seemed so far off city officials told the developer to move ahead with other plans for developing the site.
Since then, the state crossed two of the three necessary hurdles needed for commuter rail – creating the authority and capping liability – and the board has asked the developer to reconsider the rail issue.
– DAYMOND STEER/THE TELEGRAPH