N.H. stuck in 'the crosshairs' of U.S.-Canada softwood deal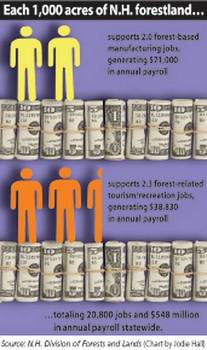 A years-long trade dispute between lumber companies in the United States and Canada seemed to have been settled in September, but the solution itself has created as many questions as answers.
A day after the settlement was announced a group of U.S. lumber mills announced its intention to block distribution of a $500 million payment that was part of the deal, claiming the money would just be going to a few select firms.
And New Hampshire's $1.7 billion forestry industry "is right in the crosshairs of this argument," said Jasen Stock, executive director of the New Hampshire Timber Owners Association.
Under the auspices of the World Trade Organization, the United States and Canada on Sept. 12 ratified the Softwood Lumber Agreement of 2006, which specifies new price thresholds and quotas and refunds about $5 billion in collected duties — about $4 billion to various Canadian parties, approximately $50 million to a "binational industry council," $450 million to other "meritorious groups" within the United States and the remaining $500 million earmarked for the Coalition for Fair Lumber Imports, a U.S. lumber industry lobby that filed the 2001 complaint that resulted in the duties' repeal.
The refunds were supposed to begin immediately after the agreement's active date of Oct. 1, with payouts to be completed within six months.
But the payout has hit not one, but two snags. Canadian lumber groups put the brakes on the agreement's Oct. 1 effective date, postponing its implementation until Nov. 1, sparking more arguments between the two governments.
The second hurdle was put up by an opposition group seeking to block the payout to a "select group" — the Coalition for Fair Lumber Imports, or CFLI.
The opposition group, Lumber Manufacturers for Ethics and Equity, or LMEE, is petitioning Congress to block the payout, claiming the move actually "circumvents Congress through an off-budget escrow account," benefits only a handful of companies and will "destabilize the domestic lumber industry."
The 31-member LMEE — whose members include the Patenaude Lumber Co. Inc. in Henniker, N.H.; Lamell Lumber Corp. of Essex Junction, Vt.; and the Cold Stream Lumber Co. in West Enfield, Maine — is even contemplating legal action to block the $500 million payout, according to a Sept. 13 press release.
LMEE said it is concerned that members of CFLI are its "competitors," and the payout will "allow them to undercut other competitor lumber companies and even buy out smaller companies, cutting jobs and raising home costs."
The membership of the Coalition for Fair Lumber Imports had been secret, but on Jan. 11 an e-mail was sent accidentally by Dewey Ballentine LLP, the group's Washington, D.C.-based law firm, to its members and to the media, disclosing the names of a number of members, including International Paper Co., Sierra Pacific Industries and Swanson Group Inc., which is owned by the coalition's chairman and spokesman, Steve Swanson.
Calls to the coalition's Washington, D.C., headquarters were not returned, nor does the group's Web site list its members for potential follow up.
Numerous phone calls and e-mails were sent to representatives from both the LMEE and its New Hampshire member, Patenaude Lumber, as well as a fax to Patenaude, but were not returned by press time.
Ongoing debate
At the heart of the dispute that led to the Softwood Lumber Agreement, said Ted Howard, a professor and forest economist with the University of New Hampshire, are differing land management practices between the two countries.
Canadian provincial governments own most of that country's timberland and sells timber to its lumber producers at government-set prices. About half of U.S. timberland is owned by the federal government, but logging is only allowed on a relatively small percentage of that land.
In New Hampshire, for example, of the state's 4.5 million acres of timberland, about 1 million, or 22 percent, are federally or state-owned, much of that within the 800,000-acre White Mountain National Forest. According to the park's Web site, about 0.5 percent of the land is harvested at any one time.
About 3.7 million acres, or 78 percent, of the state's timberland is privately owned.
Privately owned timberlands in the United States are opened up to competitive bidding – which drives the price, an important distinction from Canada's practices.
"This debate has waxed and waned over the years, but has grown warmer than ever before in the last 25 years," said Howard. "In many cases, Canadian timber owners sign agreements with the Canadian government, which, in effect, buys their services."
With Canadian sawmills buying Canadian standing timber at set prices, prices are dramatically lower than across the border, making it difficult if not impossible for U.S. timber harvesters to compete against the Canadian government-backed prices. And they have "cried foul," said NHTOA's Stock.
"Canada has grossly undervalued timber. They can sell timber at next to nothing," he said.
Further impacts
It's not clear how the Softwood Lumber Agreement, once it becomes effective, will affect New Hampshire.
Stock said the dispute and its apparent resolution affects loggers, "especially owners of spruce."
When it goes into effect, the state's softwood sawmills, particularly those in Berlin and Milan closer to the Canadian border, may be able to raise prices, no longer having to keep them artificially low to compete with cheaper Canadian lumber.
Those not working with softwoods, said Stock, "are still enjoying other benefits" from more competitive pricing within the industry as a whole.
But Howard — who, with a fellow researcher received a grant from the Canadian government in 2000 to study wood transportation issues — said, "I don't see much impact on New Hampshire's lumber industry from this agreement."
According to Howard, about 67 percent of New Hampshire's lumber production is white pine, which is used for non-structural purposes. Structural spruce and fir — the softwoods primarily targeted within the trade agreement — only comprise about 10 percent, he said.
He said he believes greater "sources of tension" between New Hampshire's lumber industry and their Canadian counterparts stem from wood supply issues and competition over high-value hardwood logs.
"On the other hand, a lot of landowners are glad to have the Canadian buyers in New Hampshire helping to support higher prices for logs and standing timber," he said. "Where you stand on these issues depends on where you stand in the supply chain."
As for a piece of the $500 million refund pie, New Hampshire's forestry industry will most likely go hungry.
"I would expect that the money would be allocated on the basis of mill production. New Hampshire's mills which saw softwood dimension lumber — the product at the center of the controversy and settlement — are few in number and small in size," said Howard. "I would be surprised if New Hampshire got enough money to be more than a little blip on someone's profit and loss statement."
A copy of the Softwood Lumber Trade Agreement may be viewed at dfait-maeci.gc.ca/eicb/softwood/pdfs/SLA-en.pdf.