N.H. retailers join forces with marketing group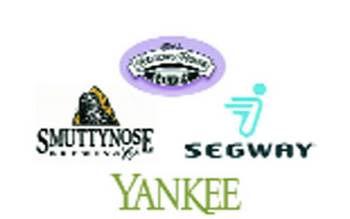 First there was Segway and Smuttynose beer, now it's Smuttynose and Yankee magazine. Soon we may see beer and Bellows House cookies.
Smuttynose Brewery, Yankee Publishing, Segway and Bellows House Bakery have joined forces as New Hampshire Partners in Commerce, creating joint marketing campaigns to raise consumer awareness that some of the country's more high-profile brands originate right here in New Hampshire.
New Hampshire Partners in Commerce is a loose association that was largely spearheaded by Smuttynose's national accounts manager, Anka Jacobs, known in the state in a previous job at the International Trade Resource Center in Portsmouth, where she worked for 12 years.
It's an attempt, said Joanne Francis, creative director and marketing manager for both the Smuttynose and Portsmouth Breweries in Portsmouth, to do what rival states, like Vermont and Maine, have been doing for years – branding the state and conveying it on their businesses at the same time.
"New Hampshire never had quite the same curbside appeal as the other states," said Francis.
The companies currently in NHPIC might be considered mid-tier businesses, firms with some history and experience — not to mention capital — but are still small enough to be able to make quick decisions regarding marketing and product. (Other companies considering joining in the commerce partnership include apparel manufacturer EMS and the Gunstock ski resort, both of which are currently in discussion with Jacobs.)
But, Jacobs said, the companies they look to include "are predominantly any businesses that complement each other. There has to be a real common ground on goals. It's not the size so much — although our customer base is quite large — but a type of business where we can do local promotion. There has to be some connection which would make it interesting for the consumer."
Cookies and beer
Lois Ford of Bellows House Bakery said she met Jacobs through the ITRC when she explored selling her cookies on the international market. She said that, while the time for exporting her products wasn't quite right yet, "I liked the idea of interacting with different companies."
When Jacobs went to work for Smuttynose last year, Ford said those conversations continued with a focus much closer to home.
"We talked about trying to do something together with our two companies," said Ford.
The result will be an upcoming campaign featuring cookies from Bellows House and Smuttynose's new Farmhouse Ale.
"It might sound strange, beer and cookies, but I can't tell you how many times I have customers telling us how much they love our almond butter cookies with sherry or port," said Ford.
Another campaign, launched during the holidays, had Smuttynose customers sign up for a Segway giveaway at special displays in grocery stores.
The latest, and perhaps most successful, campaign paired special variety packs of Smuttynose beer with the newly redesigned Yankee magazine.
As with most things, the devil is in the details, but for this particular campaign, the process for launching the Smuttynose/magazine combination went smoothly.
"Yankee gave us the magazines for free, and Smuttynose paid for the promotional materials," said Jacobs. Some 2,200 special cases were distributed throughout Smuttynose's marketing region in New Hampshire as well as far south as Virginia and west to Wisconsin.
The Yankee campaign resulted in Smuttynose selling twice the number of variety packs that it did last year, said Jacobs.
"The retailers were so enthusiastic," said Jacobs. "The packs sold out in a week. We have nothing left in the warehouse. Whatever is left is on the shelves."
John Pierce, Yankee Publishing's senior vice president, called the promotion "exciting," adding that it "is just another example of how companies can mutually benefit each other."
He said the promotion is expected to be a success. Yankee, he said, is "anticipating an increase in magazine sales and subscriptions" from the effort.
Other promotions have encountered a few more speed bumps in the execution.
Bellows House Bakery looked at creating a cookie using a beer from Smuttynose as an ingredient but ran into problems with kosher dietary laws — the bakery is a kosher facility, and the Smuttynose brewery is not.
Instead, said Ford, they'll look at other ways Smuttynose beer and her cookies can be presented.
"We may develop a savory cookie or cracker product to pair with beer," said Ford.
Ford, co-owner of Bellows House in North Walpole with her husband Lou Ciercielli, was a founding member of New Hampshire Stories, now New Hampshire Made, where she has been involved for many years with the issues and difficulties faced by smaller New Hampshire companies.
"They were facing to gain recognition not only outside of the state, but within New Hampshire," said Ford.
The new partnership helps address those concerns, she said. "Not only does the partnership enhance our business prospects," said Ford, "it gives us an opportunity to give back to the community. We have more giving power. There are some companies I would like to bring along and help them up to the next level."
For now, NHPIC is sticking with a Granite State focus, Francis said. But "if one member has something really special beyond New Hampshire, we'd certainly consider it, but we're not soliciting it."