N.H. Q2 stock performance as dismal as the weather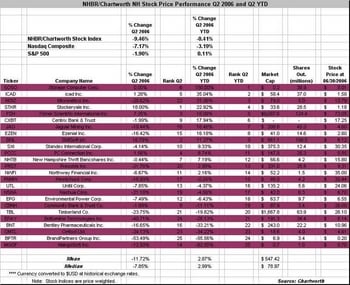 Shares in New Hampshire-based publicly held companies decreased by an average of 11.7 percent in the second quarter of 2006, according to the latest reading of the New Hampshire Business Review/Chartworth Stock Index.
The index itself, which is price-weighted, declined 9.5 percent in the quarter, which compares unfavorably to the 7.2 percent decline seen in the Nasdaq Composite Index and the 1.9 percent decline seen in the S&P 500.
On a year-to-date basis, two of the three indices still saw a decline, but less than that seen in the second quarter itself. For 2006 year-to-date, the NHBR/Chartworth Stock Index saw a 0.4 percent decline vs. the 3.2 percent decline in the Nasdaq and the 0.1 percent increase in the S&P.
Only one of the 25 companies in the index was a "winner," meaning that its stock closing price was higher on June 30 than it was on March 31, although there are 14 winners on a year-to-date basis.
The sole winner for the quarter was iCAD Inc., which also saw an impressive 35 percent increase in its stock price on a year-to-date basis. iCAD engages in the development and marketing of software-based computer-aided detection and decision support solutions for medical diagnostics, including early detection of breast cancer through screening and diagnostic mammography.
Back in April 2006, both a patent infringement suit launched against iCAD by another company and iCAD's countersuit were dismissed in court. The company recently announced its first quarter 2006 results which saw a reduction in revenues but an increase in profits.
Of the 23 "losers" in the quarter, the majority suffered double-digit decreases.
The NHBR/Chartworth index tracks the change in a blended stock price for a weighted basket of New Hampshire-based publicly traded companies.
As of June 30, there were 25 such companies, compared to 24 at the end of 2005. Since then, the index has gained two companies (Centrix Bank & Trust and Ezenia! Inc.) and lost one (White Mountains Insurance).
The Bedford-based Centrix has been a publicly held company for a number of years but is thinly traded on the OTCBB and as a consequence may have insufficient trading data for inclusion in the index. With the announcement of completion of a $6 million financing just before the end of 2005, trading volume and stock price have picked up significantly, going from $13.33 on Dec. 20, 2005, the day before the financing was announced, to a high of $19.50 on April 20, 2006, the day after the company announced its first quarter 2006 results. At the end of June 2006 the stock price had backed off to $17.25.
Ezenia!, of Nashua, also has not made an appearance in the NHBR/Chartworth Stock Index because it too trades on the OTCBB and can be a victim of insufficient trading activity. The company sells a software product called InfoWorkSpace, which provides teams that are geographically dispersed with the ability to collaborate and share information in a real-time virtual environment.
Ezenia! has been a publicly held company since the mid-1990s but has been through a number of changes since then. Back in the 2000-2001 timeframe a couple of transactions as both seller and buyer restructured the company. Things seemed rocky through 2003, when the company was unable to file its financials in a timely fashion, auditors issued a going concern opinion, and the stock was delisted. Sales bottomed at just over $8 million in 2003.
Since then, things appeared to have improved. In April 2005 the company announced its relocation from Burlington, Mass., to New Hampshire, a number of new board members and executives have been appointed and revenues for the 12 months ended March 31 were $13.7 million. Although the stock declined by 16 percent in the quarter, it increased dramatically in the first quarter so that on a year-to-date basis the stock is still up 16 percent.
White Mountains, the one company dropped from the index this year was one of our three New Hampshire firms with over $1 billion dollar market capitalization. White Mountains is domiciled in Hamilton, Bermuda, but up until this year maintained executive offices in Hanover.
That leaves Timberland Co. and Fisher Scientific International Inc. as the remaining billion-dollar companies — but not for long.
At the beginning of May, Thermo Electron Corp. entered into a definitive agreement to acquire Fisher for consideration of approximately $10.197 billion in a stock-for-stock transaction.
Susan Woods and Howard Smith are principals of Chartworth LLC, a Portsmouth-based corporate finance advisory and investment banking firm. For more information, visit chartworth.com.