N.H. logs record exports for fifth straight month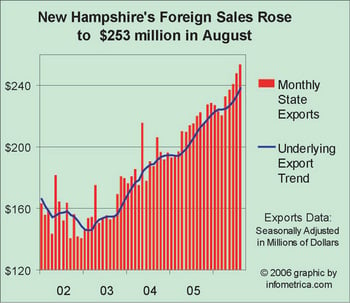 With international trade data for the first half of the year completed, the United States was the second largest exporter of goods in the world with foreign sales of $506 billion.
Germany was the world's leading exporter, selling abroad $530 billion worth of goods; China ranked third, exporting $429 billion in merchandise, followed by Japan with foreign sales of $314 billion. The four-country combined value of exports accounts for one third of all exports in the world.
After gaining 2.8 percent in July, shipments abroad from New Hampshire exporters climbed again by 2.3 percent in August. The latest picture in international trade accounts brought New Hampshire's foreign sales to an all-time high of $253.4 million, seasonally adjusted.
In August of this year, New Hampshire exporters shipped overseas $33.5 million, or 15.2 percent, more goods than in August of last year.
Manufactured goods, an important part of export growth and a chief generator of local jobs, accounted for 81 percent of all state exports in August. Exports from state manufacturers rose in August by 3.3 percent from the previous month to $205.3 million, adjusted for seasonal variation, the highest monthly volume on record.
August's foreign shipments from New Hampshire factories were $20.1 million, or 10.8 percent, higher than in August of last year.
Exports of non-manufactured goods fell 1.6 percent in August, to $48.1 million, seasonally adjusted. This group of shipments consists of agricultural goods, mining products and re-exports, which are foreign goods that entered the state as imports and are exported in substantially the same condition as when imported.
In total, U.S. exports of goods, seasonally adjusted, increased 2.9 percent in August to an all-time high of $87.9 billion from $85.4 in July. Increases occurred in consumer goods, capital goods and industrial supplies.
New Hampshire ranked 29th in export growth among the 50 states during the first eight months of this year. Compared to the same period in 2005, foreign sales from New Hampshire's companies, seasonally adjusted, increased by an annual rate of 14 percent.
What are the prospects for New Hampshire exports? According to a recent business survey conducted by the Institute of Supply Management, the nation's supply executives continue to be optimistic about the prospects of growing export markets. The Tempe, Ariz.-based research institute reported that its export orders index continued to show growth in new export orders in September for the 46th consecutive month.
September's reading of the export leading index suggests that the speed of new orders received from abroad is about the same as in August.
From the pool of respondents of the largest U.S. corporations who sell their products abroad, 14 percent reported greater export orders, 80 percent reported no change in export orders from August's levels and 6 percent reported smaller export orders.
September's foreign orders were dominated by increases in food, beverage and tobacco, nonmetallic minerals, specialty manufacturing, chemicals, furniture and fabricated metals. nhbr
Evangelos Simos, chief economist of the consulting and research firm Infometrica Inc., is editor for International Affairs in the Journal of Business Forecasting, and professor/department chair at the Whittemore School of Business & Economics, University of New Hampshire. Distributed by Infometrica Inc. He may be reached at eosimos@infometrica.com.