N.H. hospitals rally to support a Mississippi counterpart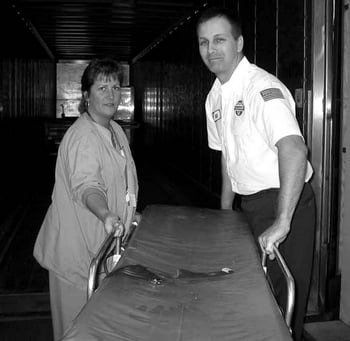 Nine New Hampshire hospitals have donated nearly $100,000 in cash and thousands of dollars more in equipment and supplies to a Mississippi hospital destroyed by Hurricane Katrina.
Immediately after the devastating storm, offers of support to the region poured in to the New Hampshire Hospital Association from Granite State hospital CEOs, physicians and others, said Andrea Alley, the association's director of communications.
"We decided to pool our resource since our state is rather small and the needs in the region were so large," said Alley. "We asked the Mississippi Hospital Association to recommend to us a hospital that we could adopt, and they named Hancock Medical Center, which was in the eye of the storm."
Hancock Medical Center in Bay St. Louis, Miss. is a 104-bed hospital 60 miles northeast of New Orleans and less than five miles from the Gulf of Mexico. It was in the direct path of Hurricane Katrina, which ravaged the Gulf Coast Aug. 29.
Because the damage was so catastrophic, cleanup and some minor rebuilding — even an assessment of who could show up to work — was required before hospital officials could assemble a list of equipment and supplies.
Of the former 500 employees "about 100 employees decided to relocate after the storm, leaving Hancock with about 400 workers," said Alley. "Hospital management needed to find out what staff was available."
Once the immediate crisis was over, Hancock was able to make a wish list of beds, stretchers, x-ray machines, exam tables and a fetal monitor, along with other items it needed to reopen for patient care.
"Our hospitals were willing to help, but the cost and logistics of shipping large items like patient beds was an issue," said Alley.
The New Hampshire Hospital Association contacted Wal-Mart — the world's largest retailer and distributor — to see if it could help with logistics.
"They generously donated three trucks to ship the equipment," Alley said.
On Nov. 3, the trucks made stops at Cheshire Medical Center in Keene, Manchester's Catholic Medical Center and Elliot Hospital, Exeter Hospital, Frisbie Memorial Hospital in Rochester, Littleton Regional Hospital, Monadnock Community Hospital in Peterborough, New London Hospital and Speare Memorial Hospital in Plymouth.
Janet McQueen's voice trembled with emotion as she spoke in a telephone interview about the donations Hancock received just two days later on Nov. 5.
"The donations really made a difference. They were the saving grace. We wouldn't be where we today if it weren't for the people and the hospitals of New Hampshire."
The 104-bed hospital recently reopened its first medical-surgical unit with 25 beds from New Hampshire.
McQueen, Hancock's director of marketing and communications, doesn't use the word "bed" lightly. "We had no beds; we lost everything," she said.
Other items in the shipment included scales to weigh patients, blanket warmers, medical suction devices and office furniture and supplies.
"We have clinics in every public school in the county as well as affiliated doctor's offices. What we couldn't use at the hospital went to the clinics," she said. "Assistance from FEMA and our insurance is coming, but it is still a long way off. Through the generosity of New Hampshire, we're able to take care of our community."
That community included the employees of Hancock Hospital themselves. McQueen lost her beachfront home. "It's in a pile of rubble with pieces the size of your fist. I lost everything. Every pair of shoes. All my clothes."
She is not alone.
"Hancock had 500 employees, 75 percent of which were affected personally by the hurricane," said Alley of the New Hampshire Hospital Association.
Even Hancock's CEO, Hal Leftwich, has even been living in the hospital because his home was completely destroyed.
According to McQueen, Hancock is making "remarkable" progress. Perhaps most important has been putting employees back to work, taking care of patients.
"The hospital has kept the employees working since the hurricane hit, but it's been salvaging equipment and supplies, it's been painting walls. Now that the unit is open, it's the best feeling in the world for the medical staff to provide medical care," she said.
While the hospital is back to just a quarter of its former capacity, donations from New Hampshire are continuing to provide support for a full recovery.
"This first shipment is just the first wave," said Alley. "Our goal is to raise $250,000 and get as much of the items on Hancock's list as we can. Some of the hospitals are considering purchasing new equipment to donate and having it shipped to Hancock directly."
McQueen said the greatest need right now is money. "The greatest need is to get the revenue back coming in. We were down all of September and most of October. We are county-owned, but self-supported. We operate on our own revenue and do not get tax subsidies. But the important thing to remember is we had a beautiful community and we are resolved to restore it," she said. "We feel a connection, from human spirit to human spirit, coming from across the country."
For more information on donating to Hancock Medical Center, call the New Hampshire Hospital Association at 225-0900.