N.H. firm states case against patent reform bill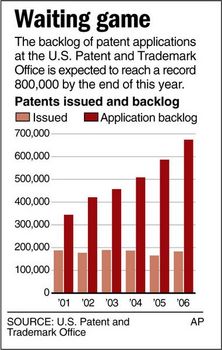 Depending on where you stand, patent reform legislation making its way through Congress is needed to keep the United States competitive in the 21st century or it would be "devastating" to tech businesses and innovation.
Among its provisions, the Patent Reform Act of 2007 — introduced in April by Sen. Patrick Leahy, D-Vt., chairman of the Senate Judiciary Committee, and Congressman Howard Berman, D-Calif., chairman of the House Judiciary Committee — would limit the damages a patent holder can collect when an infringing technology is part of a larger product. It also would allow new ways to challenge patents after the U.S. Patent and Trademark Office has granted them, award patents to those first to file, as opposed to those first to invent, limit the damages patent holders can collect in infringement lawsuits and create a new procedure to patent validity challenges, called a "post-grant review."
Many large tech vendors have argued that the U.S. Patent and Trademark Office too often approves questionable patents, and that it's too easy for patent holders to sue, collect huge damages and shut down product lines that have a small infringing piece. That's why an overhaul of the system is required, they argue.
"Patent reform will contribute immensely to America's competitiveness in a global economy and will reaffirm America's commitment to innovation and consumer welfare," said Jonathan Yarowsky, counsel to the Coalition for Patent Fairness, an organization whose membership roster includes dozens of large firms, led by Microsoft, Apple and Dell, that are praising this latest attempt at patent reform.
When the bill was introduced, Microsoft praised the measure calling it a "fair and balanced approach."
"If the U.S. patent system is to continue to serve its vital role in promoting innovation and economic growth … remedies for patent infringement must be predictable and fair," the company said in its statement.
But another coalition of mostly small and medium-sized tech companies, known as the Innovation Alliance, takes a much different view of the legislation.
In a letter sent to congressional leaders May 15, the companies said the "consequences" of the measure would be "devastating", including "greater bureaucracy, inability to rely on valid patents, weakened protections against infringement and a decreased access to capital."
"The harm to investment in tomorrow's technologies would be felt immediately, and would hurt U.S. competitiveness for years to come," they wrote.
Among the letter's signatories was the Salem-based semiconductor manufacturer AmberWave Systems, the University of New Hampshire, Smoothshapes Inc., a Merrimack-based medical aesthetics company, and the Dartmouth Regional Technology Center in Lebanon.
AmberWave has been among the most active members of the Innovation Alliance and has taken its argument to Capitol Hill, voicing the concern that the proposed legislation has only the best interests of the biggest companies at heart, leaving smaller businesses and technology start-ups vulnerable to infringement.
"The proposed changes, especially those which have been driven by today's largest technology companies, simply tilt the playing field in their favor and will hamper our nation's technology companies of tomorrow," said Bryan Lord, vice president and general counsel for AmberWave, in testimony before the House Subcommittee on Courts, Internet and Intellectual Property.
AmberWave is concerned that the measure "doesn't address the root problem" of making stronger patents and has the "net impact of making patents easier to bust and easier to infringe," Lord told New Hampshire Business Review.
He said his company is most concerned with the implementation of post-grant review. Such a provision, Lord said, would allow anyone — including the infringer — to request a review at any time during the life of a patent, making third parties far less likely to conduct due diligence prior to granting a patent.
"The post-grant review is a dramatic change," said Lord. "It is casting a wide net to capture good patents in the past as well as good patents in the future."
Lord suggested that reform focus on improving the pre-grant review process instead. "Otherwise, it's like conducting a home inspection after purchasing the home," he said.
Lord also said his company has concerns about the proposed apportionment of damages, which he said takes into account only the parts of the invention that are new and novel.
"Fighting an infringement on 3M's Post-it Notes, for example, would get nothing, since neither the paper nor the glue are new," said Lord.
Damages are awarded when the infringer has "willfully" infringed on the patent. Lord said he believes this provision "makes it easier to be willful."
Another provision in the Patent Reform Act changes the patent-granting system to award ownership rights to the first entity to file vs. the first to invent, as the process currently stands.
"What we have now is cumbersome and expensive, but issues are not very frequent. And they are a big deal when they do occur," said Lord.
He said he was concerned with those firms that file enormous amounts of patents — which he termed "patent mills" — who he said might gain the upper hand simply because they tend to be large companies with many resources.
"Universities are most concerned with this," said Lord. "Universities are idea-rich but resource poor."
But supporters say the first-to-file provision would level the playing field between the United States and the rest of the world because it is the only country with a first-to-invent rule for patents.
Lord, however, said he felt the provision may loosen restrictions on foreign filers.
Even the big tech firms have voiced concerns with certain provisions in the bill.
The Coalition for 21st Century Patent Reform, with member companies such as 3M, Caterpillar, General Electric, Procter & Gamble and Johnson & Johnson, says it disagrees with the bill's provision apportioning damages.
Gary Griswold, president and chief intellectual property counsel of 3M, said in his testimony to the House Judiciary Subcommittee, that the group was "troubled" by the proposal because "limiting damages for patent infringement tilts the balance in favor of infringers, at the expense of American researchers and innovators. It has profound implications for our system of intellectual property law."
The Coalition for 21st Century Patent Reform also says it disagrees with the bill's post-grant opposition system as well as the absence of provisions reforming the law on inequitable conduct.
Whatever their stand on the current reform proposal, stakeholders on both sides agree that changes are needed in the nation's patent system.
According to Lord, "we need to make the patent office more efficient by decreasing turnover in the Patent Office, by citing better prior art, and by having a proposal to slow the patent mills down with a progressive fee structure."
He added: "Our patent system is good, and can be made better with targeted improvements in quality and efficiency, not with proposing such fundamental changes."
A copy of the Patent Reform Act of 2007 may be downloaded at http://judiciary.house.gov/media/pdfs/hr1908secbysec042007.pdf.