N.H. fines North Country propane lender $500k
Haverhill company charged with securities, banking violations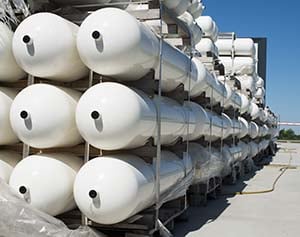 Upper Valley Commercial Corp. has agreed to pay $500,000 to the state for securities and banking violations, but first the company – which emerged from bankruptcy on Dec. 31 – will have to finishing paying about $6 million to creditors who were not insiders over the next two years.
But the Haverhill company, which provided financing to propane suppliers, appears to be on track, having already paid back over $2.2 million in the year since it filed for bankruptcy. But, as a result of that settlement agreement with state agencies, UVCC will no longer able to make more loans.
If everybody gets paid back, there will be no harm done to any investor, said Jeff Spill, deputy director of the New Hampshire Bureau of Securities Regulation.
The fine, which was negotiated down from a claim of more than $3 million, would be split between the Securities Bureau and the New Hampshire Banking Department.
The company, according to the regulators, was either selling unsecured promissory notes to investors, or promising to pay back loans on demand, in violation of state laws and regulations.
The Securities Regulation Bureau said that UVCC was selling unlawful securities without registering as a broker, whereas the Banking Department charged that it was operating as a private bank without being licensed or insured.
UVCC, which has been operating since 1965, was at first licensed by the New Hampshire Insurance Department. That license lapsed in 1971, and since then the company operated under the radar screen, offering corporate notes promising interest rates of between 2 and 4 percent.
In 1982, the law changed and the Securities Bureau regulated such entities, but Edward Patten, the UVCC principal handling such regulatory issues, died on May 13, 2014.
His son, David Patten, and employee, Alvin Fadden, assumed operation shortly afterwards, only learning that September that they were being investigated by the Securities Bureau.
By that time, they were financing a ski area, three manufacturers and 11 propane suppliers that themselves served 15,000 to 20,000 customers.
Even after the company filed for bankruptcy under Chapter 11, its bankruptcy attorney, Peter Tamposi, insisted that it was solvent and could afford to pay everybody back over time.
Although the company only had $190,000 in assets at the end of November, according to the last operating report, customers have been paying back their loans regularly, allowing the company to slowly repay investors. After paying off attorneys, $6 million to investors and $500,000 to the state, the company might have some money left over to pay back insiders, who are owed about $4.5 million, Tamposi said.
Even if the agencies intervene, it is unclear whether anyone would have been harmed.
Still, Spill said the state had to step in because it was "too risky" to sell securities without the required disclosures or to act like a bank without federal deposit insurance.
"The success was that we caught this early, so that the entity was able to pay people back. That's a victory for both the state and the investors," Spill said.
Tamposi said that it was unusual for a company to emerge from Chapter 11 in only a year, but he noted that it would no longer able to fill the financing niche in the local propane industry that it had been doing for decades.
Still, he said, it was better to settle with the state than risk paying a much stiffer penalty.