N.H. exports hit an all-time high in April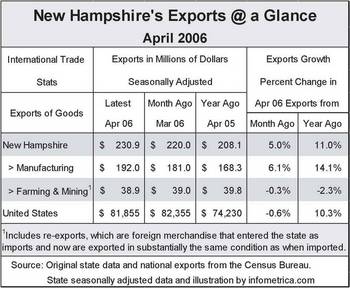 Outbound company shipments to the state's major international markets enjoyed gains in April as demand for goods made in New Hampshire was boosted by strong growth in foreign consumers' incomes and a weaker dollar, which makes exported goods cheaper and more competitive.
Exports of goods made in the Granite State rose by 5 percent in April, after falling 1.5 percent in March, to their highest mark on record. New Hampshire companies sent $230.9 million in goods abroad in April, adjusted for seasonal variation. New Hampshire companies surpassed their previous year's monthly volume by $22.8 million, or 11 percent.
The largest contributor to April's foreign sales was exports of manufactured goods, which accounted for 83 percent of all exports.
In April, shipments abroad from New Hampshire's manufacturers climbed to an all-time high $192 million, seasonally adjusted, which is 6.1 percent more than March's level of shipments.
In April, foreign sales from state manufacturers contributed to 11,000 factory jobs in making the final goods shipped abroad.
More important, manufacturing activity triggers ripple effects in a wide range of other industries. In April, there were 7,000 additional factory jobs in New Hampshire in supporting manufacturing companies, which sustain production activities of exporting companies. These jobs relate to workers who manufacture the materials and parts needed for assembly of the final goods sold overseas.
Exports of non-manufactured goods were nearly flat, edging down by 0.1 percent in April to $39 million, adjusted for seasonal variation. This group of foreign sales consists of agricultural goods, mining products, and re-exports, which are foreign goods that entered the state as imports and are exported in substantially the same condition as when imported.
Nationally, export of goods edged down by 0.6 percent in April to $81.8 billion, seasonally adjusted, after hitting an all-time high of $82.3 billion in March. Through the first four months of this year, national exports of goods grew by an impressive annual rate of 13.2 percent above the same period a year ago.
In comparison to the same period in 2005, overseas sales from New Hampshire's companies – seasonally adjusted – increased by an annual rate of 13.9 percent, compared with a 13.2 percent average for all 50 states. As a result, New Hampshire ranked 27th seventh among the 50 states through the first four months of 2006 in export growth.
Added to this, forward-looking global indicators point to an improving outlook for state exports.
According to the latest findings of the World Economic Survey, conducted in the second quarter of 2006 by the Ifo Institute of Economic Research at the University of Munich and the Paris-based International Chamber of Commerce, the current global economic upswing continues to be strong.
Reporting the results of the survey, Gebhard Flaig, a member of the executive board at the research institute, pointed out that "the world economic climate improved in the second quarter and the expectations for the second half of 2006 are still optimistic."
About 1,100 executives from 91 countries participating in the international survey appraised the current worldwide economic conditions to be better than a year ago. Looking at the rest of 2006, the executives expect the global economy to continue growing, but at a slightly slower pace than at present time.
The business experts from around the world anticipate the global volume of imports to increase substantially in the second half of 2006.
Evangelos Simos, chief economist of the consulting and research firm Infometrica Inc., is editor for International Affairs in the Journal of Business Forecasting, and professor/department chair at the Whittemore School of Business & Economics, University of New Hampshire. Distributed by Infometrica Inc. He may be reached at eosimos@infometrica.com.