N.H. Energy Summit takeaway: expect natural gas spikes again this winter
'What we thought was very scary last fall may be even scarier this year'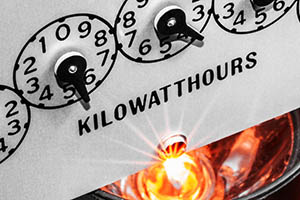 Be afraid, be very afraid, when it comes to spot market energy prices this winter.
Last fall, futures contracts for peak electricity for January 2014 were $95 to $100 per megawatt-hour, said Taff Tschamler, senior vice president of business development at North American Power, an alternative electricity provider for some 35,000 New Hampshire residents and businesses. This fall, Tschamler said, such contracts have been trading between $170 and $190 per mWh.
"What we thought was very scary last fall may be even scarier this year," Tschamler told the audience at the 2014 New Hampshire Energy Summit, which was held Monday in Concord.
Despite all the talk of long-term solutions, ranging from smart grids to offshore wind to multibillion-dollar gas pipelines and transmission lines, the most urgent question during the summit remained: How do we get though the next few winters?
It's going to be a rough ride, judging by the recent rate increases filed by Unitil and Liberty Utilities, which are seeking hikes of nearly 50 percent.
The abundance of natural gas has driven down its price, making it the fuel of choice for generating electricity, muscling out coal, oil and, to some degree, nuclear. In fact, spot market prices are now just about as low as they've ever been, said Eric Johnson, director of external affairs at ISO New England, which manages the electric grid.
But the New England region's pipelines "wouldn't support generation when we need them," he said, referring to the coldest days of the winter.
"Natural gas has become too dominant" as an electricity source in New England, agreed Joe Dominguez, senior vice president of government and regulatory affairs and public policy at Exelon Corp. The problem is exacerbated by the fact that New England is literally at the end of the supply line, and pipeline capacity in the region has not kept up with supply or demand.
It's not just that there aren't enough pipelines.
"There are just not the molecules in the pipelines when we need it the most," said Dominguez.
Political agendas
Natural gas providers, which negotiate long-term contracts in advance to heat customers' home and businesses, get first dibs on those molecules, sucking off most of the fuel when the temperature drops. That leaves natural gas generators, which buy gas on the spot market, competing for a scarce resource on cold days, causing the price to spike.
While the gas spikes don't affect those with fixed, long-term contracts, they are felt by businesses and residents that agree to be supplied through variable-rate contracts. Their complaints last winter accounted for a third of all complaints received by the New Hampshire Public Utilities Commission, said Amanda Noonan, the PUC's consumer advocate
North American Power was one of the companies being complained about, admitted Tschamler.
"We have to do a better job educating consumers," he said. "Last winter was the winter of our discontent. Hopefully next year won't be."
But the lights stayed on, thanks to an ISO incentive program that rewards generators for stockpiling an alternative fuel – primarily oil and propane. This year, the agency hopes to extend the program to liquefied natural gas. It helped in the case of Essential Power, which runs a gas plant in Newington, said MQ Riding, the firm's director of external affairs. "When it comes to human health and comfort, you need short-term fixes to get you though to the market solution," Riding said.
Essential Power stocked up on propane and burned it all. "It was a fully subscribed insurance program that was fully used," she said.
While panelists at the summit grappled with the immediate problem, the Democratic and Republican candidates running for governor and U.S. Senate focused on their own energy agendas in their addresses to the audience.
Walt Havenstein, the Republican gubernatorial candidate, criticized the Regional Greenhouse Gas Initiative, calling it a government mandate – a view that Dominguez later took issue with, calling it a "market-based program that works."
Scott Brown, the Republican nominee for U.S. Senate, mostly discussed national energy issues, such as the Keystone oil pipeline and criticized his opponent, U.S. Sen. Jeanne Shaheen, for what he claimed was her support of a national energy tax.
But Shaheen countered that such a characterization was simply untrue and suggested that support for the coal and oil industries would not help the Granite State, since they don't create jobs, just pollution that drifts from the Midwest to New England – making us "the tailpipe for the rest of the country."
Gov. Maggie Hassan stressed the state's success in cutting energy use by 24 percent and promised to follow up with additional goals. Shaheen reiterated her support for her bill to do the same thing at the federal level.