N.H. economist sees capitalism sprout in Vietnam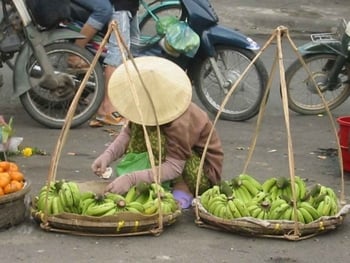 Thirty-one years after the United States ended a losing war against a communist takeover of South Vietnam, a unified Vietnam is discovering the benefits of capitalism, says a New Hampshire economist who spent a month in the Southeast Asian nation earlier this year.
"Vietnam has totally bought into the Chinese model of a communist government system and a market economy," said Russ Thibeault, president of Applied Economic Research in Laconia. "The communist leadership at the top is really pushing for greater westernization. It's seen as a path to prosperity."
Thibeault, who spent a month in the country in March, was one of a group of volunteers in Vietnam under the auspices of the New Zealand-based Global Volunteer Network. Though his field is economics, his role was to teach English to business majors at Duy Tan University in Da Nang.
"English is the prime economic development tool in Vietnam right now," he said, "because to have interaction with tourists, you have to know English. And the only decent paying jobs there are those that have interaction with tourists."
A university graduate who goes into teaching can expect to make about $13 a month, according to Thibeault, but "someone who graduates and knows English can work as a desk clerk in a hotel for $100 a month." The disparity is even greater than the numbers suggest.
"The average person hates the government," Thibeault said, because of the corruption that runs rampant through the system. "To get that $13-a-month teaching job, you have to bribe the government official that hires you with a year's pay." The bribes place a burden on both the job-seekers and their families, he said.
Today, however, there are two ways to get ahead, he said. "One is to join the Communist Party and gradually work your way up through greater and greater bribes. The other side is to join the market economy."
Entrepreneurial spirit
The United States normalized relations with its former enemy in 2000, and there is evidence of U.S. investment in Vietnam. Intel recently announced the opening of a $300 million plant in Hanoi and about a dozen other names of well-known American businesses – including Hewlett-Packard and Microsoft — could be seen on at least one office building Thibeault spotted on his travels from Da Nang to Hue.
"The leadership of Vietnam is extremely interested in encouraging foreign investment," he says. A recent trade agreement between the United States and Vietnam is viewed as "a steppingstone toward Vietnam being admitted to (the World Trade Organization), which they are hoping to achieve this year."
But American concerns about human rights abuses and copyright violations remain an obstacle to trade relations between the two countries.
"It seemed like on every street there was a little store that would make copies of CDs and DVDs for a buck," Thibeault said he observed during his stay there.
The entrepreneurial spirit appears to have caught on rather thoroughly among the many owners of small sidewalk markets and cafes. A typical restaurant, said Thibeault, is "two tiny tables on the sidewalk with three chairs each. It's a country of tiny, tiny businesses."
Farms also are small, a result of government redistribution of land. "The typical farm is a couple acres of rice fields and a pond for irrigating the rice fields and growing the fish," said Thibeault. Yet the country has "tremendous agricultural and aquacultural resources.
It is the third-largest rice exporting country in the world. A lot of the shrimp we eat comes from Vietnam. A lot of crayfish and catfish come from Vietnam."
Overall, the nation's economy is growing at a rate of 9 to 10 percent a year, which is comparable to China's, Thibeault noted, though that growth is measured against a very small base. Signs of poverty were everywhere, he said, including in the classroom where he taught.
"There were texts, but they were like fifth-generation copies," he said. Objects in the photos accompanying the texts were barely discernible. "There were no language labs. There were very limited resources."
Still, he found the students eager to learn the language they hoped would get them better jobs and a brighter future.
"It was almost painful how hungry they were to learn English," said Thibeault, who taught with the help of a Vietnamese translator.
Most of the students had learned some basic English, while others were already fluent. "My role was mainly for pronunciation," he said. "They don't hear a native speaker of English very often." As a result, the students were more familiar with written than with spoken English.
"Sometimes they'd have a difficult time understanding what I'd said and they'd have kind of a puzzled look. Then I'd write it on the board, and they understood right away."
A thing of the past
It was Thibeault's first trip to Vietnam, though he tried to volunteer for duty during the Vietnam War when he was a student at UNH. He applied for the Navy's aviation program but was rejected because of a bad back. The same thing happened when he tried to enlist in the Air National Guard.
"I went for my draft physical and washed out of that as well," he said. "I didn't serve in the military during the Vietnam War, but I didn't protest it either. I just tried to ignore it."
That non-involvement in an issue that loomed so large over his generation later left him with what he calls "a void in my life." He also decided, as his 60th birthday approached, that he had reached a point in life where he could volunteer for a different kind of service.
"When you hit 60 or so, you realize you're running out of time to do things. If there are things you want to do, you'd better get on with it, particularly if it involves travel to a Third World country."
So he did a Google search combining the words "Vietnam" and "volunteer" and discovered the Global Volunteer Network and the opportunity to teach in Vietnam. "It was something I'd wanted to do for a long time, but I couldn't afford the time off from work," he said. With his four sons grown, he decided the time was right. His wife Patricia, a teacher at Laconia High School, was unable to go with him, but neither did she stand in his way.
"She tolerated it," he said. "Basically," she said, "'Well, if you want to do it, do it now.'"
When he got there, he was overwhelmed by the peaceful beauty of a country and a people fought over by the Japanese, Chinese, French and Americans in the course of a few decades. "To see the people, how quiet and gentle they are, and to see what they went through and hear their stories," recalled Thibeault.
Most Vietnamese living today are too young to remember the war that brought half a million Americans to Vietnam. Those who do remember their homes and villages bombed by American planes or attacked by North and South Vietnam forces are not living in the past, Thibeault said.
"They love Americans," he said. "The basic sentiment I heard was, 'That was long ago. We have to live for today and the future of our children.'"