N.H. economic indicator takes another dip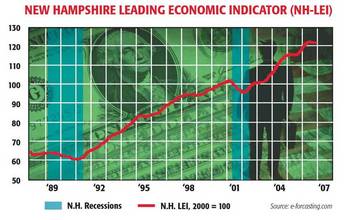 With this issue, New Hampshire Business Review introduces the NHBR/e-forecasting.com New Hampshire Leading Economic Indicator Index, measure of where the state's economy stands now and what may be in store for the future.
The NHBR/e-forecasting.com NHLEI decreased in October to a reading of 119.8 (it was 100 in the year 2000), according to estimates by e-forecasting.com, a Durham-based economic forecasting firm.
According to the indicator's developer, Dr. Evangelos Otto Simos, chief economist of e-forecasting.com and chairman of the Economics Department at the University of New Hampshire's Whittemore School of Business and Economics, the 0.5 percent drop in the indicator is the second decline in a row. In September, the NHLEI fell by 0.3 percent.
Looking at the leading indicator's six-month growth rate — the practitioners' watched signal of turning points in state economic activity — the NHBR/e-forecasting.com NHLEI fell by an annual rate of 2.2 percent in October, following a decline of 1.2 percent in September. This compares to a long-term annual growth rate of 3.8 percent — the same as the annual growth rate of the state's overall economic activity measured by gross state product.
Simos said the weakness — following years of steady, and often record, growth — "suggests that state economic growth in the months ahead should be significantly weaker than in the past year. If negative growth rates in the leading index persist over the next few months, the state economy will face a risk of recession in 2007."
Nevertheless, four of the eight components that make up the NHBR/e-forecasting.com NHLEI had a positive contribution in October: unemployment claims; exports of manufacturers; consumer expectations; and stock market performance.
Components that showed deterioration and led the overall index to a decline in October were weekly hours in manufacturing, building permits, financial market conditions and a measure of technological advancements.