N.H. colleges prepare for a possible pandemic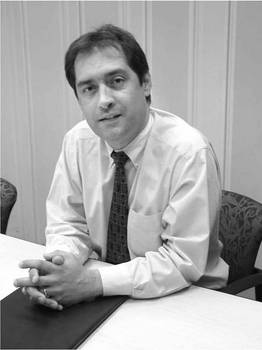 With scientists saying the current strain of the avian flu virus found in various places around the world is most fatal to those aged 15 to 35 — just the demographic of students at colleges and universities — New Hampshire's universities and colleges are putting together action plans for the eventuality of a pandemic or other widespread medical crisis.
"We are not in panic mode — we already have a crisis management committee — but we were encouraged last fall by the state to start looking at pandemic planning," said Linda Jansky, vice president of student development at Rivier College in Nashua. "The state provided a model and shared it among the other colleges. We have a draft plan and have been through one edit. We have draft job descriptions for various roles, and we also have legal experts looking at it."
At the University of New Hampshire, officials have completed a pandemic influenza plan (available online at unh.edu/emergency/avian-flu.html) and are beginning to work with department heads to put up general safeguards.
Saying the university is "in the preparation level," Brad Manning, director of environmental health and safety at UNH and the campus's emergency preparation coordinator, added that its plans are "based on an alert matrix. It essentially goes by type of transmission of the virus that has been confirmed, such as sporadic or person-to-person. It's also based on where the infection is occurring, whether the cases are global, in North America, outside of New England, or in New England."
One fact that has been hammered home at various pandemic-planning seminars held by the state Department of Health and Human Services is that, in the event of a pandemic, state aid services would be more logistical ones rather than handing out water and food rations in a community gym supply line.
Networking efforts
Smaller colleges, like St. Anselm College in Manchester, are working closely with local and state officials to come up with a response plan to a possible pandemic.
"When U.S. Department of Health and Human Services Secretary Michael Leavitt visited the state last May, he pretty much said the federal government would be busy working on the larger scale, so it's really going to come down to working with local and state agencies," said Pat Shuster, vice president of administration at St. Anselm and part of its pandemic planning committee. "We're networking and talking about each other's preparations."
Kimberly Swick Slover, director of communications at Colby-Sawyer College in New London and a member of that school's pandemic planning team, said her college is in contact with state officials on a regular basis.
"We have an emergency response plan in place that we are adapting for special conditions that could arise from the avian flu," she said.
A number of schools have begun ordering specific supplies in preparation for a pandemic.
St. Anselm, Rivier and UNH said they are purchasing N95 respirators — highly specialized face masks capable of screening out 95 percent of extremely tiny particles.
"We're told they [screen out the virus]. But do we know anything?" said Jansky, who chairs Rivier's crisis management committee.
Researchers are calling for the National Institute for Occupational Safety and Health, the governmental agency that certifies N95 respirators, to study their effectiveness.
Still, it is unlikely that just a single virus particle would be expelled in a cough or sneeze, said Dr. Jose Montero, state epidemiologist. "The main flu transmission is by contact with a fomite — a table surface, for instance. That's why washing hands is so important," he said.
UNH is trying to mitigate that very mode of transmission by installing some 360 gel hand-sanitizer stations around the campus in such places as computer labs, dormitories, food service areas and recreational facilities.
Hand-washing is even more important to prevent the spread of disease because college health centers are unable to stockpile their own stores of Tamiflu, the primary antiviral used to treat avian flu symptoms. The federal government is creating a national stockpile and will control the release of the drug.
Montero said each state will buy a certain amount from the federal government, "but how much we will need and how much it will cost will be decided over the next several months."
But he said deciding how much Tamiflu the state should buy and who would receive the drug is one of the "trickiest things" in preparing for a pandemic. National standards suggest treating health-care workers and the ill to as much as 25 percent of the population.
"But this all depends on how much we have. If we have 10,000 patients and workers caring for them, we need to keep the infrastructure intact. But we all have families, have jobs. It may be hard to accept. And things will change depending on the conditions of the pandemic," said Montero.
How the drug makes it through the pipeline in New Hampshire is also in question. "When there was a seasonal flu vaccine shortage a couple of years ago, Rivier didn't get any, but Southern New Hampshire Medical Center gave some doses for critical students," said Rivier's Jansky.
The quarantine option
Vaccines against the current avian strain are not yet available, although development is under way. And vaccines against a pandemic strain do not exist because such a pandemic virus does not yet exist.
Scientists believe that once a vaccine is available for the current strain, it may confer some immunity to a mutated pandemic strain.
One of the most important questions for New Hampshire's educational system is also one of the most difficult: If students or faculty contract a pandemic form of influenza, would they be kept in isolation to prevent further spread of the disease or would they be released to their families?
Jansky said the city of Nashua "believes the best option for colleges and schools would be to send students home if they show flu symptoms. The city does not anticipate quarantine."
Colby-Sawyer is still discussing what to do with students if they become sick. "If a student is in California, he or she would not be able to come back. But we would probably evaluate the situation on a case-by-case basis," said Slover.
Whether ill students would stay on campus or be sent home also would "depend on the size of the pandemic," said Montero. "Those that are ill would be placed somewhere in isolation. But where the isolation is going to take place is an interesting issue. If they're not really sick, it makes no sense to send them to a hospital taking up beds for those that are seriously ill. We're not looking into massive isolation and quarantine. I don't see quarantining a college as an effective tool."
Most likely those who are ill and those caring for them would be placed in voluntary isolation, staying at home or a location with daily living services, such as food and telephone.
That might sound overly simplistic during a pandemic, but methods of travel, and hence the ability for the disease to spread, are drastically different than they were during the 1918 Spanish flu pandemic.
"A pandemic will take days, not weeks, to cross the country, so mass transit closures are a moot point," said Montero.