N.H. businesses answer call for Katrina relief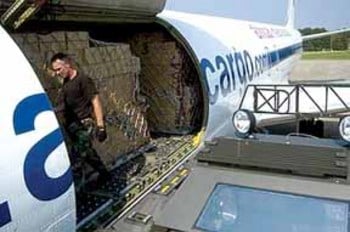 New Hampshire may be some 1,600 miles from the Gulf Coast, but dozens of Granite State businesses and agencies are helping "neighbors" hit hard in the wake of Hurricane Katrina.
Many of the businesses have partnered with the Greater Manchester Area Red Cross in raising funds, including WMUR-TV and radio stations, WZID-FM, WOKQ-FM and 96.5 The Mill, which staged a telethon that raised more than $1.1 million.
"Once again, during a time of need, the people of New Hampshire have responded with incredible generosity. It never fails to amaze me," said WMUR general manager Jeff Bartlett.
"There is such a massive need. Where do you start?" said Emeran Langmaid, owner of A&E Coffee Roastery at the Amherst Plaza in Amherst, which through September will donate 10 percent of all retail coffee bean sales to the Salvation Army.
Langmaid's business was founded with a charitable notion of supporting sustainable farming and fair compensation to coffee bean growers, often located in some of the poorest parts of the world.
"I felt so hand-tied. I would do much more if I had the opportunity," said Langmaid, who's also been contacting relief agencies to see if she can donate her coffee to evacuees and rescuers alike.
In addition to proceeds from sales, A&E Roastery along with Jake's Ice Cream, also at the Amherst Plaza, and Santos-Dumont Café and Ice Cream Shop in Milford, will be taking donations for the Red Cross throughout the month.
"Granite Staters, like others, have always been generous in offering assistance to those affected by a disaster," said Thomas Metzger, president and CEO of Citizens Bank New Hampshire, all of whose branches are accepting donations to the Salvation Army through September.
Lawrence K. Fish, chairman, president and CEO of Citizens Financial Group Inc., also announced that Citizens will match donations made to the Salvation Army and the American Red Cross by Citizens Financial Group employees through Sept. 30.
Supply lines
When you think Cajun cuisine in the Granite State, you can't help but think of Crescent City Bistro and Rum Bar in Dover. Chef and owner Christopher "Koz" Kozlowski was hit twice by Katrina's devastation — professionally and personally. He said that "50 percent" of his menu was impacted by Hurricane Katrina. That's because the hurricane flattened homes and businesses on land, but also damaged some of the most fertile fishing grounds in America.
"I've been calling my suppliers. Redfish is out, crawfish is out. Pompano is out. The oyster beds where we get our oysters from didn't get touched, but we can't get them harvested yet," said Kozlowski.
He said much of his shrimp is caught in other domestic waters and are still on the menu, but "for the next week or so, we will be featuring some items with a Caribbean flare, like Caribbean conch."
The chef also has several family members living there.
"I just got off the phone with my brother who lives on Charles Avenue in New Orleans. This is the first time I've heard from him since the hurricane. He and his wife are OK and the house is still standing, but it was damaged," he said.
To raise funds for victims of Katrina, Kozlowski and other Dover area restaurants will be hosting a fund-raising dinner and silent auction on Sept. 27 at the Crescent City Bistro.
(The event will be $100 per person and seats may reserved by credit card by calling the Crescent City Bistro at 742-1611.)
Animal victims
When the Verizon Foundation, the charitable arm of Verizon Communications, asked the telecom giant's employees to raise funds to aid the hurricane victims, which it would match two for one, a good response was expected. What it got was a resounding shout. More than $2.5 million was donated in one day to the American Red Cross to assist relief efforts in New Orleans and sections of Mississippi, Alabama and Florida.
"This is an unprecedented response rate to our matching funds program, and it shows no sign of letting up," said Patrick Gaston, president of the Verizon Foundation. "Verizon employees are always quick to provide humanitarian aid in the wake of tragic events."
Verizon also is making it possible for its customers to donate to the Red Cross through the Verizon.com Web site. (Verizon Wireless customers can donate to relief efforts via text-messaging. To participate, customers can send a message to the address 2HELP or 24357 using the key word "help." They will receive a reply message asking them to confirm a $5 donation to the Red Cross.)
While many shelters are opening up across the country for the human victims of the Katrina disaster, most do not allow pets. For those with a cherished dog, cat or other pet, this can pose a real problem.
The New Hampshire Society for the Prevention of Cruelty to Animals is in "stand-by mode" according to executive director Lisa Dennison.
The NHSPCA has received the first group of 50 dogs from shelters in Louisiana, not "rescuees," but animals that were already in adoption shelters.
"If we took in the animal evacuees right now, they might not be reunited with their owners," she said.
N.H. colleges do their part
Most people know New Orleans for its Mardi Gras celebration, but the Crescent City also is home to several universities and colleges.
In an unprecedented move, officials at Tulane University in New Orleans canceled all classes for the fall 2005 semester. Other institutions around the Gulf Coast have done the same, possibly setting back the studies of as many as 175,000 students.
To help them, Daniel Webster College in Nashua, the University of New Hampshire in Durham, and Dartmouth College in Hanover have opened their dorms and classrooms.
Daniel Webster is offering free online college courses and free on-campus places for the fall semester for college undergraduates affected by the disaster.
"It is incumbent upon us through our educational mission to assist in the best way we can to provide educational opportunities to those whose personal and educational lives have been severely and unimaginably disrupted by Hurricane Katrina," said DWC President Dr. Robert Myers.
The University of New Hampshire is granting non-degree admission to New Hampshire students enrolled in colleges and universities closed by Hurricane Katrina.
Courses are available based on space, and students will receive advisement prior to registration.
Southern New Hampshire University is offering assistance to students displaced by Hurricane Katrina in several ways.
University President Paul LeBlanc has offered spots in the university's undergraduate program for Tulane University students, particularly those from New England.
SNHU also has created a committee that will identify those efforts that will be most useful to victims in the near future, focusing especially on helping students who are now without a college or university to attend in the coming year and providing aid to K-12 school systems.
Looking forward, the university also will offer three scholarships to its School of Community Economic Development for relief agency workers seeking to rebuild communities in the Gulf region.
"We have all watched with horror and dismay the havoc wreaked by Hurricane Katrina in the Gulf region. In typical SNHU fashion there has been an immediate desire to help," LeBlanc said in a Sept. 2 memo to the campus community.
Dartmouth College is offering temporary admission to academically qualified undergraduates from colleges and universities affected by Katrina. The students will be admitted as part of the college's Special Community Student Program. There is no limit to the number of students that can enroll under the program.
"We will waive the tuition for these students, but they will be admitted with the provision that they pay the regular tuition at their home institutions. We envision that the home institutions will use the tuition funds to help rehabilitate their campuses and to help offset some of the impact on their local employees," said Dartmouth President James Wright. "There are many details of this arrangement yet to be worked out, but I am confident that we will soon be prepared to accept visiting students, and I look forward to welcoming them."
Paul Danos, dean of Dartmouth's Tuck School of Business said Tuck will admit a limited number of students to the second year of its program.
Arrangements for accepting students into Dartmouth's other graduate and professional programs are under consideration.
Dartmouth College starts its fall 2005 semester on Sept. 21.