N.H. Business Sales navigates a complex process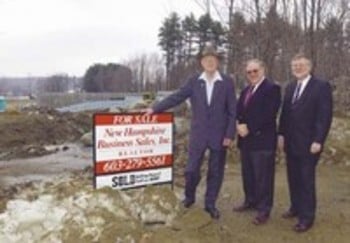 New Hampshire Business Sales is made up of a group of experienced business, real estate and consulting professionals who, with their expertise in business brokerage, valuation and consulting, are dedicated to maximizing the value and selling of small to mid-sized, privately-held businesses and commercial property interests in New Hampshire.
Determining a price for a business is a very complex process and requires experienced professionals who know not only how businesses are run, but how business can be run better. Stewart Lamprey, former owner of New Hampshire Business Sales, now a current associate, has been dubbed the "dean of business brokers." He has been a member of the New Hampshire Association of Realtors for so long, they have given him a lifetime membership. He continues to work in the company and his lifetime of experience in the real estate business and his extensive contacts remain invaluable in helping sellers and buyers navigate the complexities of a sale.
Ivor Thomas and Leon Parker, co-owners of New Hampshire Business Sales since 2000, have decades of business and real estate experience.
Thomas has worked for such companies as Proctor & Gamble, the St. Regis Paper Co. and New Hampshire's Freudenberg-NOK, as well as serving in the U.S. Navy. Parker worked for the federal government with over 10 years at the executive level, before returning to N.H. in 1985 and embarking on a career in real estate and business sales.
The experience of the company's owners serves as the foundation for the wide-ranging talents of the rest of the firm's associates.
Realizing that business owners today demand information and services at their fingertips, New Hampshire Business Sales has spent several years bringing state-of-the-art on-line tools to its Web site. Now, prospective buyers can find the bed & breakfast of their dreams or that parcel of land perfect for a retail shop with a click of the mouse. And sellers can have their properties confidentially listed on the Web, increasing the number of potential customers.
New Hampshire Business Sales recognizes that confidentiality is a major concern for most sellers. Consequently, customers are required to complete a confidentiality agreement, available on line, before more specific information about property and business offerings is shared with them. Customer information is kept strictly private and never sold.
For more information about selling or buying a business, call New Hampshire Business Sales at 279-5561 or visit www.nhbizsales.com.