N.H. builders dodge cement shortage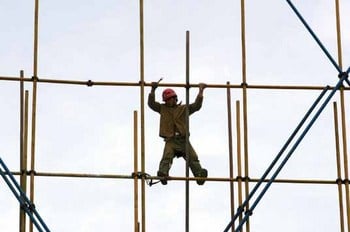 The thriving Chinese economy is having an effect on cement and concrete projects around the world, although in New Hampshire the industry seems solid.
Massive building projects in China have turned the Asian country "from an exporter to an importer of cement," said David Bissonet of Redi-Mix Concrete in Manchester. "They are now consuming more than they are producing and have to import it."
Analysts say China is using 40 percent of the world's supply of cement, a raw component of concrete. This consumption in turn has had an impact on parts of the United States that rely heavily on imported cement.
The United States imports about 25 percent of its cement, but major Chinese construction projects have been absorbing much of the world's supply.
According to Tom Bartholomew, executive director of the Northern New England Concrete Promotion Association, "Twenty-three states are experiencing shortages, but New Hampshire, Vermont and Maine are not. There have been some scheduling problems in Massachusetts and in the border regions in extreme southern New Hampshire, but nothing serious."
"The supply is tight, but there really has not been a shortage," agreed Bissonet.
According to John Samenfeld, president of Pro Con Construction, New Hampshire imports about 30 percent of its cement, mostly from Venezuela, Greece and Quebec, and also from domestic suppliers in the Catskills and Maine, but it has yet to be adversely affected by the worldwide shortage.
"We've been very lucky. New England in general has not seen shortages, and we don't expect it to. Now, if two or three mills go down, maybe there might be problems, but nothing now. We've been assured by our suppliers."
Other parts of the country have not been so lucky.
Florida and the Mid-Atlantic region bring in some 40 percent of their cement. The shortages have been so severe in Florida, in fact, that the state has had to resort to rationing supply.
While supply has been able to edge out demand in New Hampshire, the Granite State has been affected by cost increases, due in part to the cement shortage and America's own building boom. "Costs have gone up by 25 percent in the last nine months," said Bissonet. "It's supply vs. demand."
Bartholomew said he typically sees prices rise about once a year, but this year, they've gone up twice. Where it might have cost about $70 per cubic foot of concrete a year ago, it now costs about $75.
Another factor contributing to the rising cost and tight supply of cement is shipping cost and availability of container ships. "The U.S. imports about 20 percent of its cement," said Samenfeld. "If you think about the product, it's heavy, it's dirty, it really beats up your ship, so you're not as eager to ship it."
Bissonet said shipping costs have quadrupled in the last year or so. "The ships are hard to get, and the product is hard to get."
Bissonet also said the availability of cement has been affected by the number of cement mills in the Northeast. "In this part of the country, there has not been a new cement mill in 30 years. They are hard to get permitted. The public is often against them. It takes a huge investment, something like $200 million. But the consumption has increased. The difference is made up with importing," he said.