N.H. aerospace consortium inks ties with Montreal group
To encourage trade and partnerships between the two sectors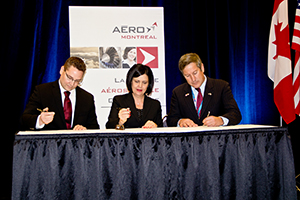 The recently formed New Hampshire Aerospace and Defense Export Consortium has signed an agreement with a similiar Quebec-based organization, Aero Montreal, that lays the foundation for collaboration between Granite State businesses and one of world's premier aerospace clusters.
The signing took place Monday at the Aerospace Innovation Forum in Montreal, attended by more than 800 people from the Canadian and international aerospace industry.
"This is a big day for NHADEC and the state of New Hampshire," said Christopher Wrenn of Gentex Corp. in Manchester, chair of the New Hampshire consortium, which was first organized in March. "It's important because we are such a young organization and it gives us the opportunity to partner with an organization that has a long history in aerospace. Our members will learn a lot, but we have a lot to offer to Aero Montreal."
Calling it a "strategic collaboration," Aero Montreal President Suzanne Benoit said the agreement is a first step in forming a Quebec-New England aerospace corridor.
"The NHADEC is definitely a partner of choice," she said. "This strategic collaboration will provide major opportunities for Quebec's aerospace industry by encouraging trade and fostering partnerships between our two aerospace sectors."
The consortium was organized by the International Trade Resource Center last March to encourage and strengthen export sales. There are 70 member companies in the organization and the membership is expected to grow. About 300 New Hampshire companies and manufacturers have ties to the aerospace and defense industries.
Home to companies like Bombardier, Bell Helicopter and Pratt & Whitney Canada, Quebec's largest industry is aerospace-related and 98 percent of Quebec's aerospace activity is located in Montreal.
The agreement establishes preferred relations between the two organizations and encourages collaboration on such topics as training, research, joint trade missions and supplier development initiatives.