Muslim businesspeople find a home in Manchester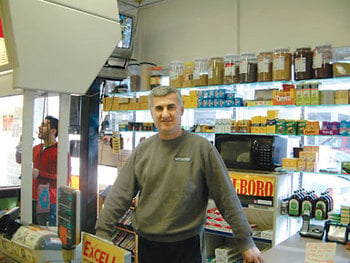 They arrive on Friday at 1 p.m. or sometime thereafter, alone, with families or in small groups of two or three. Removing their shoes, the men gather on the carpet before the lectern, while the women sit behind curtains, unseen by the preacher.
Their mosque is, for now, rented space in the basement of a commercial building on Maple Street, while work continues a few miles away on the early stages of construction of the first stand-alone mosque in New Hampshire. During the hour of prayer and preaching, the crowd grows close to 100, with worshipers arriving as their work schedules and business demands allow.
"There is nothing big except Allah," proclaims the visiting Imam, F. Qasim Khan, director of fund-raising for Muslim Alliance in North America. "When the call comes on Friday, put off your business and traffic and come to the call of the masjid (place of worship), come to the call of Islam. Hasten to the remembrance of Allah."
Salman Saeed is one of the Muslims of greater Manchester who regularly heeds that call, closing the doors of his Mir Oriental Rugs shop in Bedford from 12:30 to 2:30 each Friday afternoon to attend the service.
"Any time someone is planning on a Friday visit, we do let them know in advance," the Pakistan native says.
The store is open six days a week, so there is enough time to make up for any sales missed during the Friday afternoon closings, he says. "We used to be open seven days for many years, then we started closing on Sunday because we were losing family time."
A 1991 graduate of New Hampshire College (now Southern New Hampshire University), Saeed started his own business four years later, building on his family's rug-weaving and exporting business in Pakistan.
The store features hand-woven imported rugs from Iran, Turkey, Nepal and China, as well as Pakistan.
"The rugs we import are very exclusive works of art, not like the rugs you find in various department stores," he says. "People are very keen to learn about the products brought over. This is about the history and tradition of trade."
His religious convictions are reflected in the pride he takes in his business.
"That is the values you are raised with in an Islamic faith. The honest merchant has the highest career in the afterlife and so you trade. The last prophet, the Prophet Muhammad, blessing and mercy on his name, was a merchant himself. That was his occupation. It is encouraging to Muslims that they should enter into trade and hold themselves to the highest standard."
Saeed is one of many Muslims who have emigrated from Europe, the Near East and parts of Africa and have become part of the business and professional world of greater Manchester.
"They're physicians, they're engineers, teachers, professors, pharmacists," says Dr. Saleem Shuja, a physician at Parkland Medical Center in Derry.
Growing community
While Census numbers do not include religious affiliations, Mahboubul Hassan, founder and president of the Islamic Society of Greater Manchester, estimates about 3,000 Muslims live in New Hampshire, the majority of them in greater Manchester. Fewer than 100 are registered members of the ISGM, he says, but donations for the new mosque, an estimated $2 million project, come from both within and outside the society.
"A lot of people give anonymously. It comes in the form of $50 or $100," says Hassan, a professor of economics and finance at Southern New Hampshire University.
The society is working on a number of fund-raising events, he said, including one on April 20 featuring Imam Siraj Wahhaj, a motivational speaker from New York.
"We have now close to $150,000," said Hassan, enough to bring in the ledge and lay the foundation at the construction site at Karatzas Avenue on the east end of the city.
Completion of the building "depends on the money. We're hoping by two or three years," he says.
Kasim Hamzic, general contractor on the project, arrived in 1999, when war had destroyed much of his native Bosnia. He worked as an ironworker before starting his own business just last year.
"If I need help, there are a lot of people from Bosnia here in construction," he says. "We have a lot of volunteers. We don't have to pay for everything."
Salman Malik, an oral surgeon in private practice in Londonderry, came to New Hampshire after completing his residency at Stonybrook Medical Center on Long Island.
Born in Pakistan, Malik grew up in Brooklyn, but has found New Hampshire more to his liking.
"There's less chance of being anonymous," he says. "In Brooklyn, you don't know the people living next door. Here, everyone knows everyone, which is kind of nice."
A former secretary of the local Islamic Society, Malik sees many fellow Americans of Pakistan origin at the mosque.
"There's a huge Pakistani community that owns grocery stores and gas stations. Some are in real estate. They're working long hours, most of them."
A more open society in the United States gives more opportunity for enterprise, he says.
"The problem in Pakistan and in many countries is that there is a kind of system where corruption is rampant," he says. "You can't get anywhere without either a bribe or connection."
Egyptian-born Ahmed Tahoun moved to the United States when he was 19. A former employee of Nortel Networks in New Jersey, he has since started a second career as a Realtor with Advance Team Realty.
He finds his bilingual skills an advantage when dealing with Arabic-speaking customers. "I find it a nice business to be in," he says. "It's great to see the smile on the face of a buyer when going into a permanent home."
Mulbah Kamara arrived in Manchester with his wife and son as political refugees from their native Liberia in 2003. Today he works 10-hour overnight shifts at an Easter Seals group home in Bedford before opening for business each morning at The Comfort Zone Boutique at the corner of Pine and Laurel Streets in Manchester.
The store, featuring imported men's and women's clothing from Eastern Europe and Africa, has been open since last June.
Kamara acknowledges business is still a little slow. "A lot of people don't know about it," he says. "It will take time. Little by little, it will happen."
Ali Jaber, once a regular customer at The Spice Center deli and meat shop, liked the place so much that he bought it when the previous owner was ready to sell. A graduate of the University of Florida ("home of the Gators," he is quick to add), the Lebanon native owned a Shell gas station in Hooksett before taking over The Spice Center.
"It has our food," he said, with meats and spices from India, Pakistan, the Middle East, Europe and Africa. And, he says, it's the only store in New Hampshire offering food that is halal, or meets Islamic dietary law. The store is in the shopping plaza at the corner of Valley and Maple, diagonally across the street from the temporary mosque.
"Sometimes I go on Friday, but not as much," he says. "Sometimes I'm by myself and don't have anybody to be on the cash register." So he prays at home or at the store and works to keep his business going.
"It's tough these days," he says. "The economy is bad, prices went up. Nothing comes easy, my friend. Everything is hard. But if you work hard and manage right, you survive."