Music Hall film traces history of women's movement
NH Women's Foundation to present 'She's Beautiful When She's Angry,'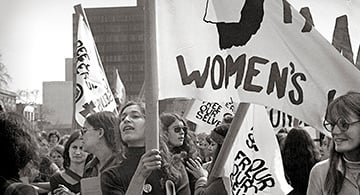 "She's Beautiful When She's Angry," a "powerfully passionate" documentary that traces the development of the modern women's movement, is being presented Friday, May 29, at The Music Hall of Portsmouth.
The screening, which will begin at 7 p.m., is presented by the NH Women's Foundation in association with The Music Hall. It will be followed by a panel discussion featuring: Nancy Miriam Hawley and Norma Swenson of "Our Bodies Ourselves," the groundbreaking nonprofit public interest organization based in Cambridge, Mass.; Izzy Labbe of the SPARK Movement, an activist movement working toward an to the sexualization of women and girls in media, as well as Hardy Girls Healthy Women; and Joelle Ruby Ryan of the University of New Hampshire Women's Studies Program.
Moderator of the panel will be Barbara MacLeod, the award-winning former New England Cable News and NH Public Television journalist.
"The New Hampshire Women's Foundation is excited to join with The Music Hall to bring this powerfully passionate film to Portsmouth," said Terie Norelli, president and CEO of the NH Women's Foundation. "Whether you took an active part in this cultural transformation or you flinch if someone suggests you are a feminist, you should see this film.
"If you're a parent, you should bring both your daughters and sons to this film as it tells the history of a courageous movement whose accomplishments have made the world a better place for all of us — the women and men who have come after them. In addition to that the audience is sure to leave inspired after hearing from our post-film panelists."
Added The Music Hall's production manager, Zhana Morris, "There are three types of people who need to see this film. Those who are old enough to remember what it was like before the women's rights movement brought attention to these issues and got us on the road towards positive change; those, like me, who grew up in the middle of it, reaping the benefits of it, but not truly knowing what it was like 'before,' and those who were born afterwards, who assume we will never 'go backwards'. In other words, everyone."
Tickets can be purchased at the box office, over the phone at 603-436-2400 or online at themusichall.org.