Multimillion-dollar transformation planned by Radisson Manchester
Rebranding to DoubleTree by Hilton will be completed by end of 2018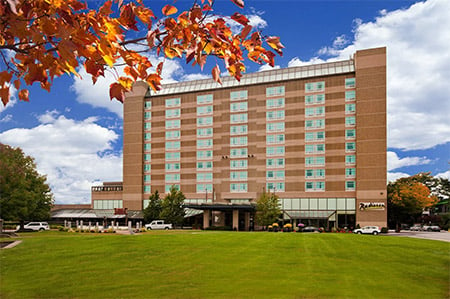 The Radisson Hotel Manchester is about to undergo a multimillion-dollar redesign and transformation into a newly branded DoubleTree by Hilton, officials announced Wednesday.
During the renovations, which are expected to be finished by the end of the year, the hotel, which is owned by Pyramid Hotel Group, will continue operations, temporarily rebranded as The Manchester Downtown Hotel.
"Our location has been a staple in downtown Manchester since it opened 34 years ago, hosting presidential candidates, local dignitaries, rock stars and thousands of events," said Kim Roy, general manager of the property. "This upcoming alignment, combined with extensive modernizations, will further enhance our guests' experience and help attract more visitors, meetings and events to downtown Manchester."
She said the hotel will undergo a redesign and refurnishing process that includes:
• Renovated guest rooms
• A new restaurant, bar and dining options
• Reconfigured lobby
• Addition of a Hilton Honors Lounge
• Business center expansion
• Renovated meeting spaces
• A new market featuring beverages and snacks
"DoubleTree by Hilton is one of the strongest and most well-respected hotel brands in the world, and our associates are very pleased to be able to provide this new hotel and its services to the community," said Roy.