Ms. Pac-Man creator to keynote Entrepreneur of the Year Awards
NH High Tech Council event to feature a night of new and old gaming technology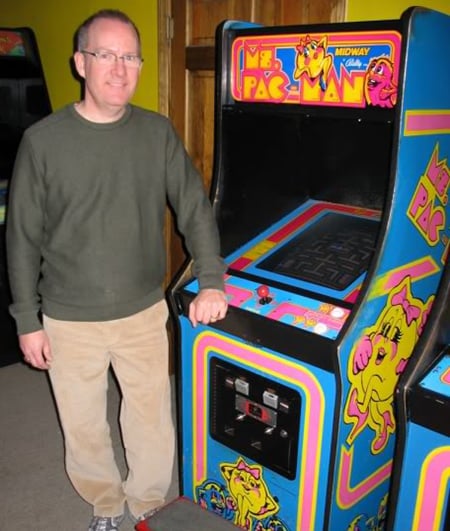 Video game pioneer Steve Golson, the inventor of Ms. Pac-Man, is the keynote speaker for the New Hampshire High Tech Council's 30th Entrepreneur of the Year Awards ceremony.
The celebration will be held on Wednesday, June 13 from 5:30 to 7:30 p.m. at The Crowne Plaza (soon to be DoubleTree by Hilton) in Nashua.
From 1981 through 1985, Golson designed video games while working for General Computer in Cambridge, Mass. He completed the hardware design for GCC's arcade enhancement kits Super Missile Attack and Crazy Otto (which eventually became Midway's Ms. Pac-Man, one of the most popular arcade video games in U.S. history, according to the Council). Golson also worked on the Maria graphics chip for the Atari 7800 ProSystem home console and contributed to various other arcade game projects at GCC including Atari's Food Fight.
Golson has been consulting and doing business as Trilobyte Systems since 1986. His areas of expertise include VLSI design, computer architecture and memory systems, and digital hardware design.
"As we mark the historic 30th anniversary of our Entrepreneur of the Year Awards, we're thrilled to welcome Steve — one of the founding fathers of the gaming industry's 'Golden Age' — as we celebrate the evolution of tech right here in the Granite State," said Matt Benson, the Council's EOY committee chair. "His extraordinary accomplishments have laid the groundwork for today's tech superstars who enthusiastically carry on his trailblazing spirit of innovation."
The Council will also partner with modern-day video game developers Game Assembly, who will provide attendees with an interactive gaming experience on modern-day laptops, along with a "throwback" experience featuring a gaming console with games from the past three decades, and an opportunity to test a virtual reality simulator.
One of the Council's flagship events, the Entrepreneur of the Year Awards honors people who have made significant contributions to the advancement of technology-based businesses in New Hampshire. Any founder or senior-level manager of a New Hampshire business who has successfully organized, developed or managed a technology concept into a commercial product or service is encouraged to apply for the prestigious award. The application and full entry requirements are available at nhhtc.org. The application deadline has been extended to Friday, May 11, 2018.
Tickets for the 30th annual Entrepreneur of the Year feature special reduced pricing of $45 for Council members and $65 for not-yet-members. Register for the event here.
Major sponsors of the 2018 Entrepreneur of the Year Awards include Autodesk, Consolidated Communications (formerly FairPoint), Cook, Little, Rosenblatt & Manson, Dunn Rush, Oracle + Dyn, Newforma, Single Digits, People's United Bank, Cirtronics, Brady Sullivan, Slavic 401K, Hypertherm, and TD Bank.