Mother, daughter injured in turnpike rollover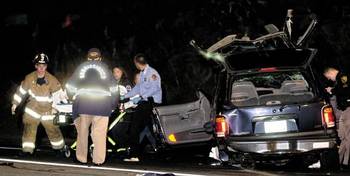 NASHUA – A Nashua woman and her 16-year-old daughter were seriously injured after the Ford Explorer they were in went out of control and rolled over after the daughter apparently grabbed the steering wheel as the two argued, police said.
Laurel Everett, 48, was driving the 1999 vehicle north in the Exit 1 collector/distributor lane on the F.E. Everett Turnpike when her daughter, whom police didn't identify, reached over and pulled on the steering wheel during a heated argument, according to state Trooper John Cody.
Everett was ejected from the truck as it rolled, Cody said. A blood-stained jacket and small pool of blood marked the spot where she landed, approximately 30 feet from where the vehicle came to rest on its wheels right at Exit 1.
A second passenger, a 14-year-old girl believed to be the driver's other daughter, suffered minor injuries and was ambulatory at the scene. She watched as Nashua firefighters and paramedics surrounded the wrecked SUV and used a hydraulic rescue tool to free her sister.
A sea of debris, including papers, smashed compact discs, food bags, broken glass and car parts littered a 50-yard swath behind the SUV, including the vehicle's rear wheel and tire.
Nashua Fire Rescue Lt. Byron Breda said the department tried to summon Boston as well as Dartmouth-Hitchcock Medical Center in Hanover, but both were grounded due to weather.
"They both look like pretty serious injuries at this point," Breda said at the scene.
The trauma teams at Southern New Hampshire Medical Center and St. Joseph Hospital were activated, Breda said. The driver was taken to the medical center and the 16-year-old was transported to Children's Hospital Boston with a serious head injury, Cody said.
Police did not say if any of people involved were wearing seat belts.
Cody said the investigation is ongoing by state police. Anyone with information is asked to call Cody at 672-3333.