Moose license plates help revamp bandstand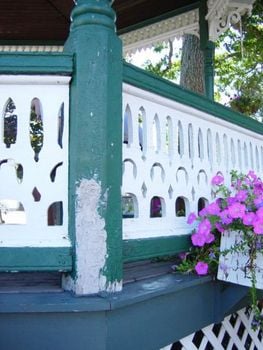 MILFORD – The Milford bandstand may be big enough to fit a moose, although nobody can recall ever seeing one there. But you can thank a moose for an upcoming restoration of this downtown centerpiece.
Using money collected from the "moose plates" – aka the conservation/heritage license plates sold by the state – the New Hampshire State Council on the Arts' Cultural Conservation Fund has given $9,570 to the Milford Main Street Program to refurbish the bandstand in the middle of the Oval.
The money will be combined with a $4,930 grant from the Milford-based Marchesi Foundation to pay for a variety of improvements to the 110-year-old structure, according to Jessica Hejtmanek, executive director of the program.
Hejtmanek said the project is likely to include repairs to the eight support column bases; replacing missing wood on spindle panels, ceiling batting and eave moldings; building new flower boxes; washing, scraping and repainting the structure, and replacing electrical fixtures.
Work will begin in the spring and should be completed in time for Memorial Day activities.
Memorial site repaired
LYNDEBOROUGH – In 1852, Christianna Woodward was killed when she was thrown from a wagon while driving down the long hill on Center Road from Lyndeborough Center. Her husband, Artemus Woodward, marked the spot with a simple granite shaft surrounded by four granite posts connected with an iron chain.
Over the years, the posts were broken and the chain disappeared.
On Thursday, the posts and chains were replaced by Douglas Hill Construction of New Boston, one of the conditions for a subdivision. The work was done by Medlyn Monument Co. in Milford.
The work turned out to be a lot harder than expected, Dick Medlyn said Friday.
"The old posts were buried pretty deep," he said.
Medlyn said the new posts are Milford granite, as the original posts probably were.
At Medlyn's suggestion, the old monument was not cleaned because the writing on it is quite legible.
"Cleaning can ruin a monument," Medlyn said. "And old monuments should look old."
At various times, local Scout troops and other organizations have cleaned the space around the monument and planted flowers. The area was cleared of all plants as part of the work, and replanting can be done as a project by some group in the spring.
As part of the subdivision, the monument is now on town-owned property. The monument actually sits within the right-of-way for Center Road, a road that is maintained by the state. The new corner posts will make it more visible to road crews and snowplows.
According to the town history, Mrs. Woodward was carrying the mail from Lyndeborough Center to South Lyndeborough when a piece of harness broke, scaring the horse. The horse bolted and threw her from the wagon onto the stone wall.