Mojalaki's 'golf academy' unique in N.H.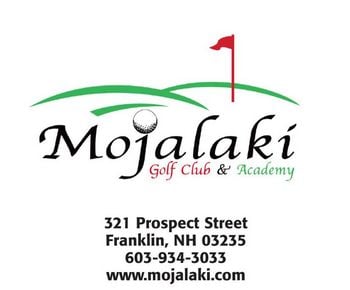 So many golf courses, so little time. That's the dilemma many friends of the fairways face today as they try to find time to squeeze in a round of golf.
"I think the economy and lifestyles have changed and people don't have as much free time anymore," said Steve Bottomley, managing partner of Tin Cup Golf LLC and director of the new Mojalaki Golf Club & Academy in Franklin.
Bottomley and his partners have taken the former 18-hole golf course, which they purchased in 2001, and are turning the front nine into a "golf campus," with a driving range and practice and chipping greens, while keeping the back nine intact. There will also be a five-hole mini-course, called "The Quickie," for those who want to play a few holes before heading back to home, work or school.
Bottomley sees the academy as a family-friendly place where Mom, Dad and the kids can come and practice or play the game at their respective skill levels.
"We can teach them the game the way it should be taught and they can practice their game at a state-of-the-art facility," said Bottomley.
"Many beginning golfers are reluctant to get out on a full 18-hole course," he said. At Mojalaki, even seasoned golfers will benefit from the opportunity to play a few holes or hit a bucket of balls when time does not allow for a leisurely round of golf.
Bottomley hired noted golf course architect George Sargent to design the facility. Sargent and Mojalaki's staff worked through the winter and early spring on creating the golf academy and hope to have the new putting and chipping greens open this month. The driving range should be ready by May and the academy fully operational, with lessons and classes, by June.
Bottomley has counted 18 golf courses within a 25-mile radius of his site in Franklin. The supply is there, but the demand is changing.
"How many people can spend two to two-and-a-half hours to play nine holes or four or four-and- a-half hours for 18 holes?" he said. The golf academy will help golf enthusiasts save both time and money.
"It won't cost a dime to practice on the putting or chipping greens," said Bottomley. Patrons will spend anywhere from $2.50 to $15 on the driving range, "depending on how many balls you want to hit."
A round of golf will be $17 for nine holes or $26 for 18 holes, while the Quickie course will be $12 for all you can play. Golfers age 16 and under will be admitted at half price.
"We've talked to a lot of people about it, and we think this is the answer," said Bottomley. "It will give them a facility unlike any other in the state."
And it could be a successful business plan for Mojalaki Golf Academy, where Bottomley believes even a golf course must adapt to the changing times.
"You just can't sit back and wait for things to happen," he said. "You need to think outside the box."
The NHBR Business Profiles section contains content provided by New Hampshire Business Review advertisers.