Moderators have a passion for their town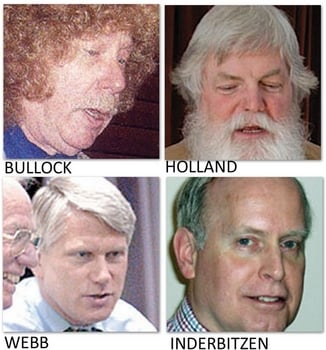 When Ryk Bullock walked out of Bedford High School late Nov. 4 – Election Day – he knew he must be tired.
For one thing, he'd been up since 3 a.m. For another, his legs were killing him.
"I'd been on them all day," said Bullock, the town and school district moderator.
But mentally, he felt wide-awake. After months of planning, he had overseen a smooth Election Day in Bedford. Voters got in and out in an average of about 6-1/2 minutes, surpassing even Bullock's goal and putting to shame the long wait times endured by town voters in 2004.
"It was a good night," Bullock said.
Town Meeting '09
In addition to overseeing voting, moderators are responsible for running town meetings and deliberative sessions. The job, which pays virtually nothing, would be nerve-wracking for a lot of people. But for many area town moderators, it's a labor of love.
In fact, the effort expended on Election Day may not even be the most daunting part of the moderator's job.
Speaking up
When Lyndeborough's former town moderator, Marge Hallyburton, asked a few people to take over for her, their main objection was something entirely different, according to Walter Holland, the current moderator: public-speaking jitters.
Holland said Hallyburton then thought of him, because he had been a computer instructor and had some experience speaking in front of people.
Holland, a member of the Lafayette Artillery Company and the town Budget Committee, agreed to run for moderator, seeing it as an act of patriotism to facilitate the democratic process.
But even he gets nervous sometimes.
"I get butterflies, a little stage fright," Holland said. "I guess if you're not concerned enough to be nervous at all, then you're not focused."
As a trial lawyer, Brookline Town Moderator Peter Webb is used to public speaking – but for him, that nervous feeling is a standard part of either role.
"I get very nervous, but I thoroughly enjoy it," Webb said.
But that's nothing compared with how it feels to get up as avoter and talk before the microphone, Webb said.
"It is so much easier than participating as a voter," Webb said. "I've been down there on the floor, and to get up to that microphone and say something meaningful is much harder than my just moving people along."
Knowing what that feels like and how much the issues mean to people can help a moderator cut voters some slack if they're taking a while to get their point across or if they're becoming emotional, local moderators say.
And it's important to be sensitive to how difficult public speaking can be, Bullock said.
"I think that any moderator, if he's doing his job, needs to exercise a certain amount of authority, but that's got to be tempered with some understanding," Bullock said. "And certainly, in some instances, with some compassion."
Hudson moderator Paul Inderbitzen remembers when that nervous person was he.
"My first time I got up to speak at Town Meeting, I was shaking," Inderbitzen said. "You think about it ahead of time, and then when you get up, you forget what you were going to say."
Inderbitzen, now a seasoned town and school district moderator who also enjoys moderating the Junior Women's Club's Candidates Night, only wanted to ask a question about something he'd read in the paper, but found it took a lot of courage.
"I just remember how nerve-wracking that was, going up to a microphone and speaking in front of everyone when you're not used to doing that," he said.
Since then, Inderbitzen served for years as chairman of the Planning Board, and has become much more comfortable speaking in front of a group.
But he always has to be ready to handle a tense situation.
Keeping control
It's up to the moderator to keep the discussion focused.
If things really get out of hand, state law gives the moderator the power of police, to have someone removed from the room, Inderbitzen said.
"I never have had to do that and I hope I never will," he said. "It would be tough. But you have to be prepared to do that, and I would be."
So far, the most difficult situations have been passionate speakers who have gone off-topic, Inderbitzen said. At this year's School District Deliberative Session, there were a few heated moments over the kindergarten issue.
"There was one speaker on kindergarten who was very excited and who went a little bit beyond, and I said, 'We're just making an amendment; let's deal with the issue of amending the numbers and leave aside the issue of whether or not to have kindergarten' " for now, Inderbitzen said.
"He apologized later and said, 'I'm sorry, I get really emotional about this,' and I said, 'It's OK, it's an emotional issue,' " Inderbitzen said.
Webb said voters are bound to get emotional sometimes and that it's perfectly understandable.
"We're talking about voters who are economically squeezed and a lot of people are of modest means, and it really is a very personal and urgent and real problem for them that the taxes are what the taxes are," Webb said.
But despite those pressures, people work together in a cooperative effort to get the town's business accomplished, Webb said.
"We all get excited sometimes, including myself, and sometimes people need a reminder, to take a breath and gather themselves," Webb said.
And it isn't always about money.
A proposal to designate a road as scenic has no tax impact but can provoke long debate, Holland said.
Going over the rules at the start of the meeting – for example, that personal attacks won't be tolerated – is helpful, the moderators say. They also agree that it's important to keep their opinions to themselves.
"As moderator, you have to remain neutral," Holland said. "If you try to influence things, they can see right through that, and they just won't pay attention to you. You have no dog in the fight."
Patience is the key, Holland said. A little self-deprecating humor can go a long way, too, Inderbitzen said. "I make fun of myself when I goof up, and most people appreciate that," he said.
Labor of love
Different moderators use different approaches, but if there's one thing these four moderators have in common, it's this: They love the job and the people.
Holland, who also enjoys volunteering as Lyndeborough's Santa Claus, has found that the interaction with people is the most enjoyable part.
"I was talked into becoming the town Santa Claus about five years ago, and that's very fulfilling, I enjoy that, the kids are great with that," he said. "Even when they recognize me around town, they'll see me in the Village Store, and their eyes will get big and they'll point to me. It's pretty cute."
Inderbitzen, who has also served on Hudson's Master Plan Committee, Planning Board and Town Council, has consistently sought out ways to be involved in the community.
Likewise, Webb has served on Brookline's Board of Selectmen, Planning Board, Historical Society and the Melendy Pond Association. For him, the connection with the people of the community is a driving force and guides his approach to moderating at Town Meeting.
"I think it should be a respectful and pleasant experience, and I don't mind an opportunity to inject a little humor," Webb said. "I want people to feel good about the process."
"It's a job you have to love to want to do it," Bullock said. "I can't imagine anyone ever wanting this job if you did not truly love it."