MinuteClinic opens first N.H. locations
Collaboration with Dartmouth-Hitchcock to include medical directors, electronic record integration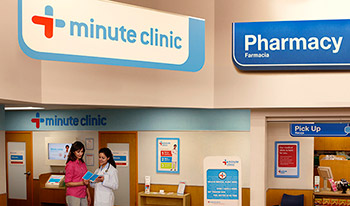 MinuteClinic, a division of CVS Caremark Corp. and the largest operator of retail medical clinics in the United States, has expanded to its 28th state with the opening of clinic locations inside CVS pharmacy stores in Concord, West Lebanon and Salem.
Locations in Hampton, Manchester and Nashua will open in early January.
MinuteClinic is launching the new locations as part of a collaboration with Dartmouth-Hitchcock.
Under the agreement, Dartmouth-Hitchcock physicians will serve as medical directors for MinuteClinic in New Hampshire and collaborate on patient education and disease management initiatives.
The walk-in medical clinics are open seven days a week with no appointment necessary. Most major health insurance is accepted. For patients paying cash or credit, treatment prices are posted at each clinic and on minuteclinic.com. Cost for most services starts at $79, the company said.
MinuteClinic's entry into New Hampshire is part of its national expansion plan to open 150 clinics nationwide in 2013.
MinuteClinic medical clinics in New Hampshire are staffed by licensed nurse practitioners who provide treatment for acute illnesses and administer wellness and prevention services, including health condition monitoring. The medical directors, family physicians from Dartmouth-Hitchcock Primary Care practices, will provide support and quality review of care provided by MinuteClinic's licensed nurse practitioners. They will also serve in a liaison role between community physicians and the MinuteClinic sites, enhancing collaboration between providers.
"Our commitment to creating a sustainable health system for the people and communities of our region requires that we deliver care in new ways that are convenient, accessible, high quality, and lower cost," said Dartmouth-Hitchcock CEO and President Dr. James N. Weinstein. "This partnership with MinuteClinic exactly fits our strategic priorities of improving the health of our population, providing value-based care, and using different payment models to reduce costs."
MinuteClinic and Dartmouth-Hitchcock will begin to work toward integrating electronic medical record systems to streamline communication around all aspects of each individual's care. With patient permission, MinuteClinic will electronically share medical histories and visit summaries with other Dartmouth-Hitchcock locations in New Hampshire with the goal of coordinating primary care among those patients who are part or seek to be part of D-H Primary Care services.
MinuteClinic nurse practitioners specialize in family health care and can diagnose, treat and write prescriptions for common illnesses such as strep throat and ear, eye, sinus, bladder, and bronchial infections. Minor wounds, abrasions, skin conditions and joint sprains are treated, and common vaccinations such as influenza, tetanus, pneumonia, pertussis and hepatitis A & B are available at most locations. Walk-in camp, sports, college, U.S. Department of Transportation (DOT), and other administrative physicals are available daily.