'Micro living' coming to New Hampshire
The Flats at Hanover Commons features 32 small apartments in Manchester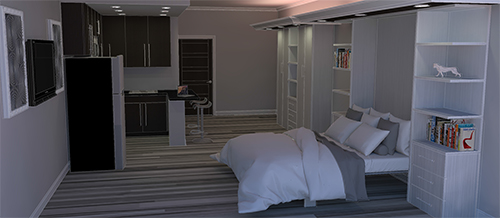 The Flats at Hanover Commons is bringing the "micro-living" concept to New Hampshire with 32 apartments expected to open in late summer.
Developer Elm Grove Companies of Manchester is building the units, called Min-I Flats by the company, on Hanover Street in Manchester, the site of the former Farnum Center drug and alcohol rehabilitation facility.
The apartments are built on the "micro-living" or "small house" concept currently winning popularity in larger cities. The concept focuses on maximizing the space available in smaller apartments, with functionality such as foldout beds and hidden storage space. The apartments measure between 280 and 410 square feet. Rents start at less than $1,000 a month, the company said.
The building also will feature ground-level office spaces, a cafe with courtyard and fitness center, among other amenities.
"We have followed the trend in micro-living in other cities, and recognize a need for it in downtown Manchester," said Chris Schleyer, Elm Grove Companies' chief operating officer. "We know that offering this type of creative, innovative housing is going to attract millennials, and a younger, educated workforce, and we need them to be a part of the growth of Manchester and New Hampshire."