Micro-distilling trend makes its way to New Hampshire
Nationally, micro-distilleries are taking the craft liquor world by storm, something like the microbrewing craze that began in the late 1990s and continues to this day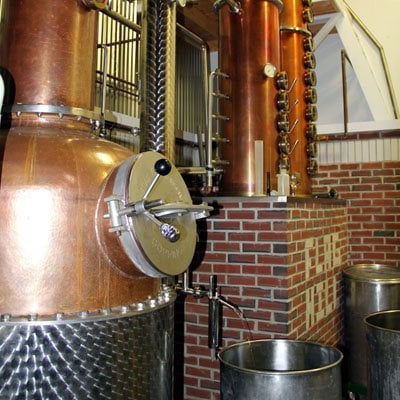 Homegrown liquor may conjure images of bathtub gin and alleyway hooch, but today's handcrafted micro-distilled spirits ain't your grandpappy's moonshine anymore.
Nationally, micro-distilleries are taking the craft liquor world by storm, something like the microbrewing craze that began in the late 1990s and continues to this day. While there are only three micro-distilleries in New Hampshire right now, a fourth, in Canterbury, is slated to be up and running in the next year, and another is in the works in Tamworth.
And those in the business seem to think this is only the beginning.
Flag Hill white rum emerges from the still at Flag Hill Distillery in Lee.
"It's booming, just like the brewing industry did," said Heather Houle, manager of Flag Hill Winery and Distillery in Lee. "It was uncommon, and now people actually seek them out, when they go to a state and ask, 'What are your local brews?' That's what we're trying to do."
Micro-distilleries — aka "boutique" or "craft" distilleries — are by definition operations that produce alcohol in small quantities. Europe has had them for a long time – the micro-distilleries there are known especially for their cognac — while the United States is just starting to catch the spirit of making spirits.
According to the Beverage Trade Network, the number of craft distilleries in production have increased from 24 in 2000 to 52 in 2005 to 165 in 2009 to close to 300 at the end of 2011.
While none of the craft distilled spirits have broken the top 50 sellers in New Hampshire listed on the New Hampshire Liquor Commission website, the local makers are optimistic that this is a good time to be distilling. And the biggest push may be coming from the "buy local" movement.
"This local movement is huge, I think," said Heather Hughes, co-owner of Sea Hagg Distillery in North Hampton. "There are a lot of people supporting local business, and I think if you make a quality product, they are going to keep coming back."
Flag Hill's Houle also said she thinks that micro-distilled spirits have a fighting chance because of the nature of the generations out there shopping.
She reasoned that baby boomers "have some spending money, and they are looking for things to buy and experience. So it's not even, 'let's go buy that craft beer from the store,' it's, 'let's go find that craft distillery and visit them.' And they have the money to make those trips."
"There are a lot of people supporting local business, and I think if you make a quality product, they are going to keep coming back."
And they aren't alone, she said. The millennials – now in their 20s — are looking for adventure.
"The millennials will try anything. They don't care what public perception is. They don't care if someone says, 'Oh that's a New Hampshire wine or that's a New Hampshire spirit, it's not as good.' In fact, if somebody says that to them, they are more inclined to do the opposite. 'I'm going to do it my way, I'm going to explore.'"
Local products
It also doesn't hurt that the Discovery Channel reality show, "Moonshiners" — about an illegal backwoods operation — has become so popular. Houle said it accounts at least partially for the uptick in sales of Flag Hill's White Mountain Moonshine.
"We were lucky enough to have moonshine become this big new thing — that was just fun to get and fun to play with at the same time that we happen to have been producing it," Houle said. "So we happen to hit a pretty good wave of popularity. You started to see a lot more moonshines on the shelf. The State Liquor Commission was happy to take it, and it's been selling really well."
One of Sea Hagg's biggest sellers is its blueberry rum, the flavor of which is derived from Maine blueberries. This summer, they introduced strawberry rum — again a local, seasonal product.
Which helps Sea Hagg's products stand out in a market full of the big guys."The rum complements it," she said. "It's a little more flavorful than a neutral grain spirit, so it doesn't taste totally like a liqueur or a flavored vodka."
Same goes for Flag Hill, which makes its vodka and gin from local apples because they are cheaper and more readily available.
"For us, apples were so easy and smart," Houle said. "No matter what you want to make you have to have an immense amount of it to make very little product. So we looked around and thought, 'Well what do we have a lot of in this state? Apples."