Methuen Construction buys 170k-square-foot Plaistow property
Firm to move from Salem to 37-acre site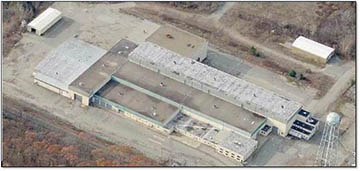 Methuen Construction Corp. of Salem will be moving to Plaistow in the coming months after the firm acquired a 170,000-square-foot facility on approximately 37 acres in the town.
The company said it will move all three of its divisions – Methuen Construction, Summit Metal Fabricators and Methuen Construction Facility Services – to the new facility this fall, after extensive renovations.
The facility has six overhead bridge cranes, 26 roll-up doors, a rail siding and will have 30,000 square feet of office space after the renovations, Methuen said.
"Basically, we're moving because we're growing at a pretty good rate," CEO Joe Barbone Jr. told the Lawrence Eagle-Tribune.
Barbone said the move will most visibly improve the ability for Summit Metal Fabricators to take on larger and more complex structural steel, miscellaneous metals, modular and pre-fabricated projects for a larger geographic market. He said the other divisions will benefit from the larger space to accommodate additional teammates and work in a more efficient and collaborative environment.