Merry & Bright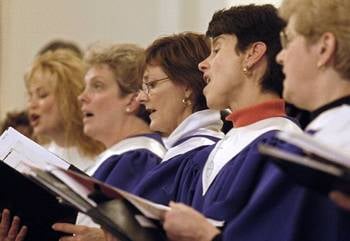 AMHERST – If able to ignore the electric Christmas lights and the minivan parked out front, the casual stroller lured to a stately, brick colonial by the harmony of Victorian carolers in full period dress Sunday evening could have easily imagined himself in gas-lit London meeting a new author named Charles Dickens.
The scene was one of many festive holiday happenings on and around the common Sunday as the town's annual tree-lighting festival brought hundreds of residents into pretty Amherst Village to hear music, see a children's play, eat refreshments, and, of course, greet Santa himself when he stopped by to help officially light the tree.
The seasonable chill in the air added to the ambience as the carolers, parishioners of the Amherst Baptist Church who assemble their Victorian Chorus each holiday season, entertained residents inside the historic home that's been a bank, parsonage, and hospital since it was built in 1806.
Earlier in the day, the chorus, under Pastor Mike Sacco, moved about, stopping to line up and sing whenever even the tiniest audience of festival-goers gathered. As it approached the library, Virginia McCormack and her three children happened by.
"It's the first time anyone's ever sung especially for me," McCormack said with a laugh.
"Yeah, it was neat," agreed 9-year-old Alex.
A slightly bigger thrill for Alex, 7-year-old Elise, and 4-year-old Sean, though, was how they got to town – shuttling in on the Fire Department's antique "muster truck."
"It was cold, but fun," Alex said.
The foursome headed across the common to Mike's Auto, where they would join other children at a long table set up in what's probably the tidiest auto service bay around. There, the Amherst MOMS Club held an arts and crafts session.
At the same time, the Amherst Congregational Church's sanctuary had filled with people to enjoy its annual holiday concert – featured were the adult, youth, and junior choirs and the biggest hit, the bell choir.
Led by organist Kimberly Vars Whitehead, the three bellringers impressed the audience to a standing ovation for their remarkable mastery of the hand-held chimes, which outnumbered their fast-moving hands considerably.
As dusk approached, several men wrestled a small, wood-frame shelter upright just in time for Baptist Church volunteers to put out cookies and brew up the all-important hot chocolate for chilly revelers.
Soon, on the same pastoral triangle of land where nearby farmers grazed their cows and the Amherst Militia kept sharp with regular musters a century and longer ago, singers and speakers assembled to entertain their fellow towns-people.
The Clark School music class sang Hanukkah and Kwanzaa songs, and the Souhegan High a cappella chorus harmonized a medley of holiday tunes.
Children climbed school playground equipment across the street for a better view of the portable bandstand upon which the activities took place. Smaller ones got their advantage with a boost onto adults' shoulders.
Lights from the town Garden Club's Memory Tree cast faint illumination across the assemblage. Several colonies of loose children formed throughout the area, the ebb and flow of their shrill at-play voices and laughter mixing with songs and speeches coming from the stage.
After teacher Peggy Silva's animated recital of Clement Moore's poem "A Visit From St. Nicholas," a brief ceremony dedicated this year's tree to Richard Crocker, a longtime road agent, public works employee and 37-year town firefighter. His granddaughter, Andrea Crocker, a 2004 Souhegan High graduate, returned to reprise her solo of "O Holy Night" for the appreciative listeners.
Then, the time had come – right on cue, as the Victorian chorus struck up a verse of "Santa Claus is Coming to Town," flashing police cruiser lights appeared; that could mean only one thing.
Squeezed into the cruiser's rear seat was the unmistakable, rotund form of the jolly old elf himself, waving and ho-ho-hoing vigorously as his ride maneuvered through the crowd.
He dutifully climbed onto the bandstand, where he'd carry out his all-important mission this night. Needing no introduction, of course, Santa cut right to the countdown. Ten seconds later, with a wave of his white-gloved hand, Amherst's tree flashed to multicolored life for all to see.
What many in town have felt for many days was now official: the holiday spirit has come to Amherst.