Merrimack men deal with runoff from detention pond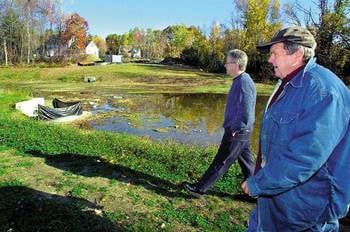 Eber Currier gazed at a soggy patch of trees and underbrush that by rights should be dry autumn woodland at the edge of his orchard in Merrimack.
"Apples don't like too much water," said Currier, who looked every bit the old-school farmer with his crusty ball cap and denim coat that showed the wear and tear of hard outdoor work.
A pond created to catch storm water from a development has been sending a small river across Currier's orchard and a neighbor's woodland lot.
Eber and that neighbor, Dave Quimby, say they've become exasperated over a problem that began two years ago when a water-detention pond was dug at Wasserman Heights, a subdivision on the north side of Naticook Road across from Wasserman Park.
The pond is within the 100-foot buffer zone between Eber's and Quimby's land and the 15-lot development.
The detention pond – a small lagoon that's part earthen dam, part catch basin – clearly isn't doing what it was designed to do, the neighbors say.
"Twelve months a year, it's a flush," Quimby said. "It's just like flushing a toilet."
The tough question is why the pond isn't catching runoff water from the development and allowing it to percolate into the ground.
Eber and Currier wonder if the pond was properly designed.
The engineer insists it was. Trouble is, the basin and berm weren't built right, he says. The town agrees something went amiss with the pond construction, and until that's corrected, it's impossible to tell if the design will work or not.
The person getting the bum rap in the snafu, according to the engineer, is the developer, who may have done nothing wrong but now is wearing a black hat in the eyes of many.
Seeking solutions
It's impossible to tell at this point if the design is the problem, said Walter Warren, town community development director.
"We don't know at this point if the design works as the site engineer said it would," Warren said.
That's because construction has deviated from the design in some of the materials used and some of the construction details, Warren said. Those include the types of soils used, how densely they've been compacted and how they were placed.
The town's position is that the developer should reconstruct the detention pond. Only then will it be known if the design will accomplish what it's supposed to.
"We have been setting deadlines along the way to get to that point," Warren said.
Keach insists neither his firm nor Clare are at fault.
"The contractor just didn't build it right," Keach said, noting his firm and a geotechnical engineer hired by his firm came to that conclusion.
"Mike (Clare) is the victim here," Keach said. "He paid a contractor to do it, and it didn't get done right."
He noted that Clare has bent over backward to work with the town Heritage Commission, granting easements through the property to connect hiking trails.
"The guy's been a great corporate citizen with this subdivision," Keach said. "It's a black mark on him and the project that's totally undeserved."
Quimby hasn't been shy about urging the town – specifically, Warren – to take on a lead role in resolving the issue.
"His first day on the job, he got a call from me to meet me out here," Quimby said.
That was Dec. 1, which proved a memorable first day for the new community development director.
"By 2 o'clock in freezing cold weather, I was standing on the edge of this detention basin," Warren said.
Currier and Quimby hope that with such intercession from town officials, the spigot pointed at their land will finally be cranked off.
Keach is sure that will happen, but with winter approaching, not until next spring.
"By the end of the day, everything will be right out there," Keach said.
Quimby and Currier say they're willing to be patient – to a point.
"We decided, let's work together to try to resolve this issue and avoid litigation," Quimby said, referring to the approach he and Currier are taking.
"But somewhere you have to draw the line."