Merrimack hires town manager from Conn.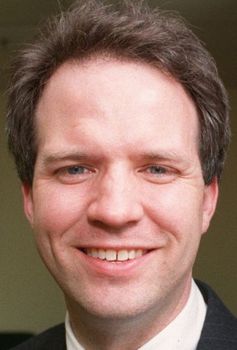 MERRIMACK – After 10 months, two "hell weekends" of extensive interviews and 80-plus applicants, Merrimack at last has a new town manager.
The Board of Selectmen on Thursday hired Timothy Tieperman, the current town manager of Tolland, Conn., to fill the opening created when Dean Shankle announced his resignation in January. Shankle had served in the job for 10 years.
Tieperman's first day as Merrimack's chief administrator will be Jan. 4. He'll earn a salary of $110,000.
After the board ratified the hiring, selectmen's Chairman Dick Hinch couldn't wait to tell Tieperman the news.
"Can you hear me now?" Hinch, seated at the board table, said into a cell phone after dialing Tieperman's cell number.
"It's official. We wanted to say thank you as well as welcome you," Hinch said into the phone.
Tieperman has served as town manager in Tolland since 1997. Located off Exit 68 of Interstate 84 about 20 miles northeast of Hartford, Tolland is part rural, part sprawling suburb and even small part college town – it borders Storrs, where the University of Connecticut is.
According to 2000 U.S. Census figures, Tolland's population was 13,086, about half of Merrimack's. But the town is one of Connecticut's fastest-growing, with about 100 to 125 housing starts per year, and its population has blossomed to close to 15,000, Tieperman said during a telephone interview late Thursday.
Tolland's rapid growth is one of several parallels between the towns, he said. The towns are about the same size in area, a little more than 40 square miles, and both share a rural scenic beauty, he said.
Tieperman, who just turned 40, said the timing was right for him to take the job, which he said was a step up on the career ladder.
"Merrimack is a little bigger community, with a little more responsibility," he said.
He said he'll miss the friends he made in Tolland over the past 7½ years, but he looks forward to "making new friends and networking with people" in Merrimack.
Tieperman noted that both he and wife, Betsy, plan to become active in the community. His wife, a former teacher, has a strong interest in history and has been active in a historical society in Tolland, he said.
For now, their biggest concern is trying to sell a house in November, Tieperman said. The family hoped to be able to complete that process before the first snowfall, he said.
A native of Kansas, Tieperman received a bachelor's degree in public affairs in 1987 from Emporia State University and a master's in public administration in 1989 from the University of Pittsburgh.
From 1989 to 1997, he served as assistant town manager in two Philadelphia suburbs.
Quoting from a press release, Hinch said Tieperman will help to rejuvenate "existing business and corporate relationships while attracting new business/corporate residents to our community."
Other board members praised the hire, which was approved by a 4-0 vote. Selectman David McCray was absent due to an illness in his family. However, Hinch said McCray passed along his strong support for Tieperman.
"I'm particularly excited about the dynamic appeal Mr. Tieperman is going to bring to the town of Merrimack, not only as an administrator, but also as a person," Selectman Chuck Mower said.
Mower said Tieperman is a "fine man" with a "fine family."
Tieperman and his wife have two daughters, ages 12 and 8.
Selectman Carolyn Whitlock, who as the assistant board chairman is the highest ranking woman in town, said she wanted to address a question she knew was on some residents' minds.
"Yes, we did interview women," Whitlock said. "We had some very capable women applicants. I'm very pleased to say they were all well-received by the selectmen."
"We were all extremely excited about the last round of candidates," Selectman Tom Koenig said.
That round produced four exceptional candidates, and narrowing it down to Tieperman was a tough choice, he said.
Tieperman was interviewed in September after the board reopened the search and re-advertised the job in newspapers and journals because the first round of interviews in June failed to produce a town manager.
In each round, selectmen brought in six or seven candidates for a "hell weekend" of interviews, first by a seven-member screening committee formed of citizens and then by selectmen.
The initial pool of applicants was first pared down by consultants Bennett Yarger Associates of Massachusetts, which selectmen hired at $14,500 plus expenses to assist in the search.
In February, recruiters from the firm met with selectmen and about 16-20 other people, including town department heads and staff. The recruiters asked town officials and staff what they viewed as the big issues in town, what they'd like to see Merrimack accomplish in three to five years and how the town manager has to function to be deemed a success.
The search firm then pared the list of applicants down to the relative handful of people brought in for the interview. They were brought to town and put up in a hotel on the taxpayers' dime.
The candidates and their spouses were treated to a reception and tour of the town before the interviews, which were conducted at the hotel.
Hinch thanked the screening committee for its work. The committee was formed of Superintendent of Schools Marge Chiafery, former Police Chief Joe Devine, former Selectman Tony Holevas, Anheuser-Busch plant manager Dennis Nesbitt, Pennichuck Corp. official Bernard Rousseau and Planning Board Chairman Nelson Disco.
Perhaps the most relieved man in town was Police Chief Bill Mulligan, who has served as acting town manager through the search process.
Mulligan called the experience "excellent," but said he was looking forward to returning to police work.
"I'm a career police officer," Mulligan said. "That's where my best strengths lie."