Meridian Construction joins forces with Mark Carrier firm
Gilford, Manchester builders enter management agreement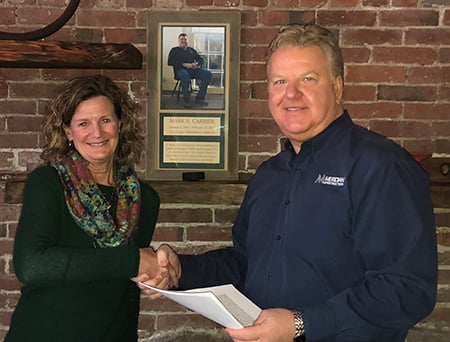 Meridian Construction Corp. of Gilford is taking the first step toward a merger with Mark Carrier Construction Inc. in the wake of the death of Mark Carrier, founder of the Manchester firm.
Under a deal, Meridian has entered into a management agreement with MCCI, whose projects includes The Grand at the Bedford Village Inn, Anderson Equipment Company, numerous dental offices and The Foundry restaurant in the Manchester Millyard.
"Having known Mark over the years and constantly hearing of his fine reputation always left me with great respect. Now I've personally come to know his amazing team. After many discussions it became clear that combining our resources and expertise helps fulfill Meridian's long term planning… It will be better for everyone in both companies," said Tim Long, president of Meridian.
Diane Carrier, current owner of MCCI said, "We talked with Meridian and a couple other firms about potential business relationships to help preserve MCCI's fine work and team going forward. It had to be a partnership with someone of similar vision, integrity and quality as my husband. We just knew Tim and everyone at Meridian had the same philosophy and are likeminded in terms of ethics and integrity — we can trust them and I know our teams will work great together."
The agreement gives Meridian a presence in Manchester and significantly expands its footprint in southern New Hampshire, said Long.
"We looked really closely at this move, and in the end, the key factors were twofold. First, MCCI's relationships open avenues to commercial opportunities we were previously missing, and second, being able to expand our company with quality people such as those at MCCI might only come once in a lifetime. I'm just honored by the chance to help continue the traditions of business integrity and building excellence here, which are part of Mark Carrier's legacy."
Meridian project manager Kyle Long will head the Manchester office at 175 Lincoln St.