Meredith Village Savings Bank boosts Colonial Theater redevelopment
Bank donates $350,000 to rehab 101-year-old downtown landmark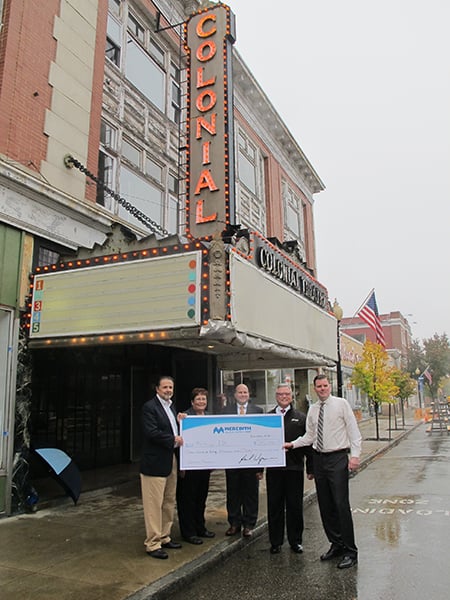 Meredith Village Savings Bank has pledged $350,000 toward the Belknap Economic Development Council's ongoing Colonial Theater Redevelopment Project in Laconia – key to the city's downtown revitalization effort.
Some $200,000 of the donation is through the NH Community Development Finance Authority's tax credit program.
Located at 609 Main St. in the heart of downtown Laconia, the 101-year-old Colonial Theater has long been of interest to city and business leaders, said Rick Wyman, president of the bank.
"We are thankful to the Belknap EDC and the local leadership who are committed to the hard work of renovating a once beautiful theater back to its former glory," said Wyman. "Having a civic auditorium in the heart of downtown Laconia will continue to spur people to live, work and play in the Lakes Region."
The first phase of the building's rehab has begun, with demolition of a movie theater partition that was installed in 1980s.
"We're so thankful for the generous contribution of Meredith Village Savings Bank," said Justin Slattery, Executive Director of the Belknap EDC. "This is a major investment in both the theater's and city's revitalization. Our goal is to eventually fill the entire space with businesses and services that complement its role as a civic auditorium." The renovation consists of rehabilitating 38,000 square feet of space, which includes a 20,000 square-foot theater, as well as commercial and residential spaces in front of the building.