Merchants sell Gorham street as a destination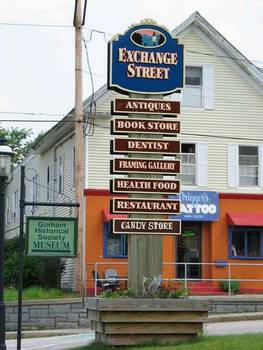 "We felt we were being overlooked, not only by people vacationing here, but also by locals," said Carla Lapierre, owner of Gateway Gallery & Gifts, of the predicament faced by the merchants located on Exchange Street in Gorham.
The small side street off of Gorham's Main Street holds six shops and lies near a railroad museum, the town common and the Gorham Library, which boasts a wi-fi hotspot. The street is ideally situated to pull customers in from the other retail businesses along the main thoroughfare, but "so many people, even local residents, would say they didn't even know we were here," she said.
Lapierre, who's also a professional photographer and custom framer, said the lack of exposure to tourists and locals alike was precisely the impetus the six Gorham merchants decided to pool their resources and increase foot traffic on Exchange Street.
"When I moved on to the street, we talked about how could get more bang for the buck. If we band together, we could buy a bigger ad," said Lapierre.
But with newspaper and radio ads yielding disappointing results, they decided it would take more than mere advertising in local outlets to put themselves on the map. So they did — literally.
Using the street's Victorian lamp as inspiration, Michael Eastman, an artist and owner of Art For The Soul gallery, designed a logo. With the help of a local ad agency, the merchants created an ad and placed it in maps available at state information centers in Gorham, Berlin and other locations in the North Country, as well as newspapers in town and in nearby Bethel, Maine.
A colorful sign on the corner announcing the businesses that comprise Exchange Street followed soon after.
"Since we've started advertising together, I've really seen an increase in both locals and visitors," said Lapierre.
Gloria Sinibaldi, owner of the Wonderland Book Store, has been on the block for 13 years. She has been with the Exchange Street Merchants association since its inception.
"The street has really evolved over the years," she said.
Several merchants readily admit the ads and the sign have had some success, and the progress is especially welcome considering the challenges the North Country has faced in recent years.
Gorham, located just south of Berlin, was hit hard by the tough economy and paper mill closing in 2001, and hit hard again when soldiers were called up from the National Guard base in Berlin and the mill closed a second time.
"The mill closures really had an impact," said Sinibaldi. "The first time it closed, it really devastated us. The second time, people were kind of ready for it. We were already pulling together."
"You need to support local businesses in tough times," added Tuesday Willow, owner of Willow Tree Apothecary Health Food Store and an Exchange Street merchant for six years. "We really work with each other."
The merchants often refer customers to other stores on the block if their own shops don't have what customers are looking for.
"A lady came into my shop looking for note cards, but I only carry a few. I told her to go to the Wonderland Book Store or Michael's gallery. He creates many of the cards himself," Lapierre related.
She also recommends those tired from a day of shopping can visit the Moonbeam Café, owned by Michael and Kerianne Desautels, for a bowl of their signature black bean and pumpkin soup.
Others can get a custom-designed tattoo by Paul Daigle, owner of Drigger's Tattoo.
Many of the Exchange Street merchants do not belong to the Northern White Mountains Chamber of Commerce, the area's business chamber that has been experiencing its own set of troubles, preferring to work with each other and focus their efforts on their street instead of working with a larger, more formal organization.
The group also makes a sort of "free will" offering with maintenance on the street. For example, Lapierre had some left-over flowers from her home garden which she planted around the Exchange Street sign. Others may give the trees lining the boulevard a trim.
"We have a good flavor here with the brick sidewalks, the lamp and the trees," said Sinibaldi.
"There's just such a wonderful mix of shops on Exchange Street," added Lapierre. "We want folks to know we're here and we have gifts just as nice as any mall. You don't have to go all the way to Manchester or Concord."