MEET THE CANDIDATES: U.S. House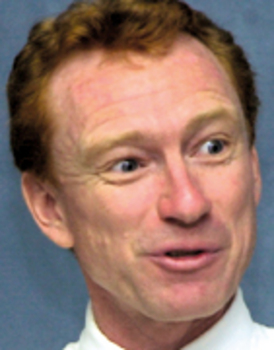 CHARLES BASS
AGE: 52.
BIRTHPLACE: Boston.
RESIDENCE: Peterborough.
PARTY AFFILIATION: Republican.
WORK EXPERIENCE: U.S. representative, 2nd District, New Hampshire, 1995-present.
EDUCATION: Dartmouth College, bachelor's degree.
ELECTIVE OFFICE: New Hampshire state Senate, 1989-92; New Hampshire House of
Representatives, 1983-88.
APPOINTIVE OFFICE: None.
ASSOCIATIONS: Monadnock Rotary Club,
member and former president; Altemont Lodge, member; Shriners of North America, member.
MILITARY: None.
MARITAL STATUS: Married to Lisa; two children, ages 13 and 10.
WEB SITE: www.votebass.com
MARK BRADY
AGE: 39.
BIRTHPLACE: Washington, D.C.
RESIDENCE: Jefferson.
PARTY AFFILIATION: Republican.
WORK EXPERIENCE:
Manchester Partners, a
financial and management consulting firm, president.
EDUCATION: University of New Hampshire, bachelor's degree.
ELECTIVE OFFICE: New Hampshire House of Representatives, 2002-present.
APPOINTIVE OFFICE: None.
ASSOCIATIONS: Gun owners of New
Hampshire; Sigma Nu Fraternity.
MILITARY: None.
MARITAL STATUS: Married to Jacqueline; two sons, ages 5 and 4.
WEB SITE: www.markbradyforcongress.com
PAUL HODES
AGE: 53.
BIRTHPLACE: New York City.
RESIDENCE: Concord.
PARTY AFFILIATION: Democrat.
WORK EXPERIENCE: Trial and entertainment lawyer,
author and musician.
EDUCATION: Dartmouth College, bachelor of arts, 1972; Boston College School of Law, JD, 1978.
POLITICAL EXPERIENCE: Capitol Center for the Arts, Concord, chairman, 1990-96.
ASSOCIATIONS: Tricinium Ltd., a Monadnock area arts organization, chairman of the board of directors; New Hampshire Council on the Arts, board member; New England Creative Council, board member. Previously has served on boards of New Hampshire Children's Alliance, FamilyStrength and
Concord Community Music School.
MARITAL STATUS: Married to Peggo; two
children, Max, 21, and Ariana, 18.
WEB SITE: www.hodesforcongress.com
CHRIS OWEN
AGE: 40.
BIRTHPLACE: Youngstown, Ohio.
RESIDENCE: Wilton.
PARTY AFFILIATION: Democrat.
WORK EXPERIENCE: Youth
minister.
EDUCATION: Georgetown University, bachelor of science in international affairs, 1985;
University of St. Andrews, master's in
philosophy, 1987.
ELECTIVE OFFICE: Wilton-Lyndeborough
Cooperative School Board, 1998-present.
APPOINTIVE OFFICE: None.
ASSOCIATIONS: Led 20 New Hampshire youths this summer in work at New York City soup kitchens.
MILITARY: None.
MARITAL STATUS: Married to Eleanor; two
children, Burton, 6, and Helen, 4.
WEB SITE: None.