May EYE Award Winner: Luc Monzies, sustainable developer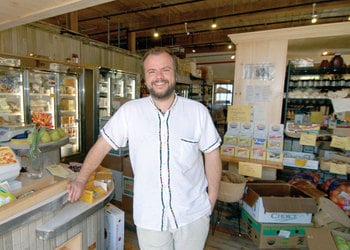 Luc Monzies spent much of his childhood at his grandfather's biodynamic farming school and training center in France. Those visits and subsequent travels through Europe, Mexico and Canada ingrained in him a passion for sustainable communities, where residents support local farmers, artisans and professionals and local businesses and farming operations meet the needs of the local residents.
Today, as co-owner of Union Mill and Company (with partners Chris and Sumitra Leask) and Greenwave LLC (with partners Al and Jeff Labrie) the 27-year-old "green entrepreneur" is putting those ideals to work by developing the state's first self-sustaining neighborhood along the Nubanusit River in West Peterborough.
Monzies' vision resembles the close-knit pedestrian-friendly neighborhoods of yesteryear. He expects the self-sustaining community will one day provide local residents with food, housing, jobs and entertainment in a cooperative and ecologically sound manner.
Once abandoned and dilapidated, the 25,000-square-foot Union Mill is now a prime example of mixed-use development. It houses 10 apartments and 10,000 square feet of commercial space currently occupied by health practitioners, artists, educational organizations and the Union Mill Market and Café boasting organic and all-natural foods raised or produced almost exclusively within a 50-mile radius of West Peterborough.
No ordinary redo, the Union Mill renovation used materials – from floorboards to beams – recycled from the old building throughout the project. Shipping pallets were dismantled and are now part of the café's counters and wall moldings. Any new lumber used in the renovation was brought in from local lumberyards and is chemical-free.
The building was retrofitted with soy foam and spun wool insulation, black iron plumbing and paints containing the lowest possible levels of volatile organic compounds.
Electricity is provided by hydroelectric power generated by the river it sits on, and a wood pellet boiler — using pellets from Jaffrey-based New England Wood Pellet — fuels the mill's forced hot water heating system. Solar energy will be incorporated this summer.
Members of the condominium association living and working at Union Mill will begin farming the two acres of land adjacent to Union Mill and the Nubanusit River this spring.
And Monzies looks forward to a day when the West Peterborough neighborhood will be completely sustainable. Within five years he expects the neighborhood to include a bakery, pharmacy, brewery and school.
Greenwave LLC has already succeeded in securing 4,000 square feet of additional space directly across the street from the Union Mill and is hoping to continue acquiring property in the area as it becomes available.
---
What inspired you to start your business?
Concern for the environment and other species. Human beings are so out of touch with the way things are in the world – so selfish. I wanted to show people there are better ways of doing things cooperatively with other species in mind.
What about this endeavor are you most proud of?
The fact we're fossil fuel-free, because that is the crux of the problem. If we run out of fuel we run out of everything, including food. That and the fact that I never listened to the people that told me it couldn't be done.
Where do you see your business 10 years from now?
A thriving cooperative that's always evolving but economically sustainable. We'll have medical coverage, dental, profit-sharing and wellness care all part of our benefits package.
How do you kick back?
Bike, hike, ski and play the piano. We have a lot of music here.
Who are your role models or sources of inspiration?
The old neighborhoods and Gaviotas, Colombia (a self-sustaining community written about in Alan Weisman's book, "Gaviotas: A Village to Reinvent the World"), Mondragon, Spain, and other European communities.
What is it about New Hampshire that brought you here?
My parents were here, I had contacts in the area and this was the perfect place for renovations of old buildings. Renovating old space is so important — it preserves local heritage and prevents farmland from being developed.
What advice would you give other entrepreneurs like yourself?
Do what you love. Find something you're passionate about. There's no other secret. Also, really look hard at the people giving you advice, and if you like where they are in life, take their advice — if not, forget it. And never second-guess yourself.