Mary Jo Brown named Holloway Entrepreneur of the Year
Brown & Co. Design and Big Brown Books' founder and president honored by UNH
Mary Johanna Brown, founder and president of Portsmouth-based Brown & Company Design and Big Brown Books, has been named the University of New Hampshire's Paul J. Holloway Entrepreneur of the Year.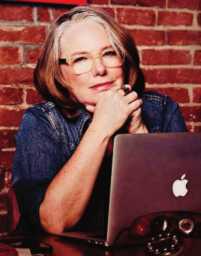 She was recognized at this year's Paul J. Holloway Prize Competition, UNH's premier business plan competition that celebrates student entrepreneurs and innovators.
Brown, who graduated in 1989 from UNH with a bachelor of fine arts degree in etching, founded Brown & Company in 1992. The strategic design firm specializes in creating informed and inspired visual communications for local, regional and national clients online and in print.
Brown was named to New Hampshire Magazine's "Remarkable Women" list in 2009, the Business New Hampshire "Influence Index" in 2014, New Hampshire Magazine's 2018 "It List" and as an "Outstanding Woman in Business" in 2018 by NH Business Review.
She is founding board chair emeritus of the New Hampshire Women's Foundation and has served on several New Hampshire nonprofit boards engaging in many community activities throughout the Granite State.
As a guest speaker and writer, Brown has focused on advancing gender equality, showcasing women's history and encouraging civic engagement. She also is an avid champion of the arts.