Marines make NHTI part of educational pathway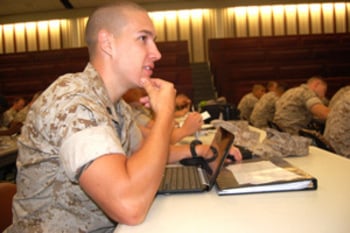 They are, as the motto says, "The few. The proud." And increasingly, members of the U.S. Marine Corps are also "the college educated," at least for those participating in a New Hampshire Technical Institute-Marine Corps partnership.
For seven years, the Marines and NHTI in Concord have partnered on an academic initiative that helps aspiring Marine Corps officers accelerate their college careers.
The 2009 class of the Marine Enlisted Commissioning Education Program (MECEP) summer preparatory school at the Marine Corps base in Quantico, Va., includes 108 of the USMC's top non-commissioned officers who were selected for a program that will eventually help them earn their lieutenant bars.
Michael Moffett, a lieutenant colonel in the Marine Reserve and a professor at NHTI, has served as an administrator and instructor in MECEP since 2001 and helped create the link between a community college in New Hampshire and the Marine Corps' educational program.
"MECEP marines are carefully screened before being accepted into this program," said Moffett. "They all have great academic and leadership potential, but many of them have been away from the classroom for many years and need to transition back into a rigorous academic environment before pursuing baccalaureate studies."
MECEP has been around since 1974. But in 2003, with Moffett's help, NHTI came up with a way for the marines to accelerate their educational attainment. Through courses approved by NHTI, marines in the MECEP program earn college credits that can be applied to their baccalaureate degree. All MECEP marines must have been accepted at top universities before reporting to the summer prep school.
The arrangement is a modified version of NHTI's Running Start program, a partnership that allows New Hampshire high school students to earn credits toward their diploma and college. In both the high school and Marine Corps versions of the program, local instructors are partnered with NHTI faculty, who consult on curriculum and leaning outcomes, and assure the integrity of the courses. College credits are awarded by NHTI and can be transferred to many other colleges and universities across the country. 
Of 108 students in the 2009 MECEP program, 98 are registered with NHTI to earn college credit. Classes include composition, American literature, intermediate algebra, statistics, pre-calculus, calculus, chemistry, physics, western civilization, political science and U.S. history.
Those credits earned will be subsequently transferred to universities around the country. This year's students will attend such universities as San Diego, Maryland, Colorado, Michigan, Texas A&M, Oklahoma, Florida, Washington, Arizona, Minnesota, Alabama, Utah, Idaho, Oregon State, UCLA and Illinois.
Beneficial partnership
Several professors, administrators and legislators from New Hampshire visited the school when it was in San Diego to confirm that the courses aligned with NHTI's in terms of contact hours, objectives, outcomes, syllabi and instructor qualifications.
(The program was almost dropped when space at the San Diego base was required for other missions, but a Center for Naval Analyses survey indicated that 94 percent of former MECEPs believed the school was essential or important to their subsequent success as students. Thus space was made available at Quantico.)
Anni McLaughlin, an English professor at NHTI, was the most recent visitor to the program.
"The professors were highly qualified," said McLaughlin. "Most were lieutenant colonels who possessed graduate or doctoral degrees, mainly in the fields they taught. They displayed an incredible breadth of knowledge, exhibited a confident and enthusiastic presence, were well-prepared and were organized. I was particularly struck by the enthusiasm of the professors and how they clearly loved teaching and genuinely cared about their students."
The partnership is a cost-cutting measure for the USMC and a revenue generator for NHTI.
"The credit option saves the USMC millions of dollars in hours of uniformed duty, as many marines earn enough credits in the summer to accelerate their college careers by a semester," said Moffett. "The credit option has also saved marines millions of dollars in avoided G.I. Bill tuition expenses. For $600, a marine can register for 12 credits and be in a full-time status for a summer session, as opposed to paying $20,000 for a semester at a university."
Meanwhile, the program generates nearly $60,000 in tuition revenue annually without taking up classroom space at the Concord campus, which is overflowing its classroom capacity, said Lynn Kilchenstein, NHTI's president.
"It's a partnership that saves taxpayer dollars and generates revenue for the college," Kilchenstein said. "Most importantly, it provides a strong academic experience for Marines who are growing into important leadership roles in the service and in our communities."