Manchester Outlook: Author devotes himself to keeping city's history alive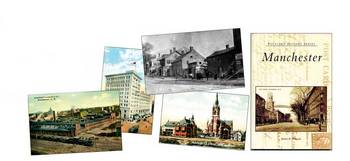 Back when a telephone was still a rare commodity and e-mail had not yet been dreamed of, Manchester residents had a reliable way to get same-day messages across town. They sent post cards.
"I have postcards that say 'I'll meet you on the corner of Elm and Myrtle at four o'clock this afternoon.' And they'd get mailed that day and delivered the same day," says Manchester historian, lecturer and tour guide Robert Perreault, whose personal archives of city historical records and memorabilia include some 1,300 decades-old picture post cards. The images they bear and the messages they carry reveal much about Manchester in the days when the trains and trolleys ran through the city and mail was delivered twice a day.
"The heyday of postcards in this country was probably about 1905 to 1920," says Perreault, whose book, "Manchester," is part of Arcadia Publishing's Postcard History Series. Cards carrying pictures of schools, churches, factories, civic buildings and railroad stations that have long since vanished from the life of the city are presented in historical context. There are also postcards memorializing events in New Hampshire history like the floods of 1896 and 1936, with pictures of entire houses submerged nearly to the rooftops
"I tried to set up each chapter almost like a tour of the neighborhood — the downtown area, the East Side, the West Side, the Millyard," says Perreault.
The scenes are also arranged chronologically, beginning with the settlements of Derryfield and early Manchester and illustrating the development of transportation and commerce along the banks of the Merrimack. A brief introduction to each section and a lengthy caption for each photo was all the writing the publisher would allow for what is essentially a picture book.
But the author managed to cram enough information to his captions to apprise the reader of little known, but fascinating, facts, such as the Amoskeag Machine Shop, which over a 10-year span, built 232 locomotives. The RG Sullivan company produced 200,000 to 225,000 cigars daily and Rutherford B. Hayes made the first presidential phone call while at the Smyth's Block of business and office buildings on Elm Street. That took place, Perreault notes, in the same room where Gov. Frederick Smyth had, on March 1, 1860, introduced Abraham Lincoln to a Manchester audience as "the next president of the United States."
A 'passion' develops
The book was something of a departure for Perreault, whose four previous books, including one novel, have all been in French. Raised in a bilingual Franco-American family, he attended St. George Elementary School, where the school day was divided into English and French segments. At Bishop Brady High School, he would encounter some of the hostility between Irish and French Catholics he would later chronicle in his history of the Sentinalist movement, a resistance by Franco-Americans in New England to assimilation of their language and culture by a church ruled by a predominantly Irish hierarchy.
"In one class," he recalls, "somebody asked what the word redundant meant, and the brother answered, 'Well, here's an example: stupid frog. That's a redundant term.' That made the Irish kids in the classroom pick on the French kids because it was like, 'See, the teacher said it — it must be true.'"
At Saint Anselm College, he majored in French and sociology. His graduate study at Rhode Island College led to a master's in French with a specialization in Franco-American history in New England.
In between, he worked as a research assistant and interviewer for authors Tamara K. Hareaven and Randolph Langenbach on an oral history of mill workers, called "Amoskeag: Life and Work in an American Factory-City."
Being able to conduct interviews in the primary language of many of the former Amoskeag workers was a plus. "When I put on the resume that I spoke French, that's what got me the job," he says.
His research and interviews led to a lifelong fascination with the history of working people in their everyday lives. "People would want to know why you wanted to interview them — they'd never done anything important," he recalls. "At first, I guess it was just a job, but eventually it became a passion."
That would lead eventually to scores of pamphlets, newspaper and magazine articles on various aspects of Manchester's history and its people, including "the different ethnic groups and how they got along and didn't get along. And yet they all had to get together somehow and build this city and make cloth and whatever else."
Preservation of historic buildings has also been one of his passions.
"I use my writing as a way to excite people about the history of Manchester — to get them excited and knowledgeable about the history of their city, so that when some issue comes up where they're going to tear something down, it makes people think twice. I have to say I'm not very successful."
The one effort he counts as a success was the restoration of Weston Observatory in Derryfield Park. The tower, a gift of James A. Weston, a former Manchester mayor and New Hampshire governor, opened in 1897 but had fallen in disrepair and was closed for safety reasons in the 1940s. Led by state Sen. Louis Israel Martel, the Weston Observatory Restoration Committee began in the late 1960s, raising money to rehabilitate the structure. It was reopened in 1977, but has been opened only intermittently since then.
"I wrote the pamphlet that told the whole history of the tower," Perreault recalls. "That was one place where I was an active preservationist." He counts it only as a "partial success," however. "I say 'partial' because the city has let it deteriorate again. So I don't think they learned their lesson there."
Demolishing the past
The emphasis on urban renewal in the 1960s brought the wrecking ball to many Queen City monuments, including the Union Station railroad depot at the corner of Granite and Canal streets and several of the empty buildings in the old Manchester Millyard.
The canals, once so useful in powering the world's largest textile company, were filled in during the '70s. Elm Street also was being transformed. "Several nice old business blocks were torn down to put up things like Hampshire Plaza, which I think is a monstrosity," Perreault says of the plaza and its 20-story office tower. "There's a vision of Manchester among some that it's almost like trying to be a mini-Boston or a mini-New York. And it isn't."
In the early 1990s, the business block at the intersection of Bridge and Elm was torn down so New England Telephone could have an office tower there. "And the silly part is they changed their mind and didn't want to build there."
But what finished Perreault as an active participant in historic preservation battles was the demolition of the Notre Dame Bridge.
"They could have fixed the Notre Dame Bridge," he says. "Everybody rallied around that. And yet some people still wanted to see that torn down, and they won."
A teacher of conversational French at Saint Anselm College since 1988, Perreault received the Manchester Historic Association Preservation Award in 1994 for promoting the city's history and cultural heritage.
"I have a special place in my heart for old things," he says of his fondness for Manchester's past. "I just love the old architecture. It goes better with humanity than the tall lifeless, style-less looking buildings that we have today."