Manchester Distillery opens with Craft & Creativity Showcase
New downtown distillery to serve gin, vodka and eventually whiskey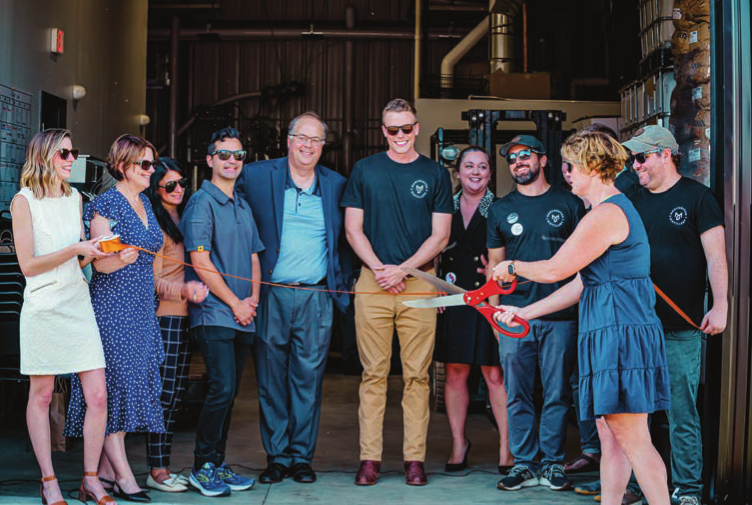 Manchester Distillery, the brainchild of Manchester powerhouses Liz and Jeremy Hitchcock, celebrated a ribbon-cutting ceremony earlier this month to a crowd of 300 people. The distillery produces premium, American-style gin and vodka, with plans to distill whiskey in the near future.
At the helm of the organization is master distiller Bill Tambussi, who honed his craft at copper stills in Edinburgh, Scotland, where he earned a master's degree in distillation before returning to the U.S.
As part of the Craft & Creativity Showcase event, local artists set up installations throughout the Factory on Willow for patrons to explore at their leisure.
"Apocalypse Apothecary" displayed healing remedies from artist Justin Tyler Tate, which "shows the gap between individual and environmental health, questions modern healthcare practices, and finds common ground in a divided world," explains the event press release.
Jeremy Trilling also offered a tour of his solar-powered innovation studio, The ToolBus, a makeshift makerspace retrofitted in a school bus that houses 3D printers, laser-cutting tools, digital innovations, and much more.
At the opposite end of the Factory, inside retail shop Double Midnight Comics, patrons had the chance to meet comic book artist Sara Richard, whose Greek Mythology books include "Nectar of the Gods: A Greek God & Goddess Cocktail Book," along with tarot decks and other creative works.
Additionally, attendees had the chance to partake in barbeque fare from 603 Smok'n Que and help artist Jay Goldberg prep for his installation "Brick Powdered Memories" at the Factory.
To commemorate the grand opening, Liz Hitchcock, principal of Orbit Group, shared, "Manchester has been a proud home to innovation for over a hundred years. I extend my gratitude to the dedicated people who helped propel us toward this moment.
"I'm so grateful for the support of our community, friends and family, who believe our vision has been the driving force behind our success."