Manchester continues to change before our eyes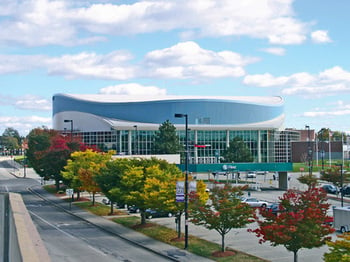 It's no secret that Manchester city officials, along with private businesses and civic organizations, have been working hard in recent years to bring new life to the central business district in New Hampshire's largest city — and they have, to a remarkable degree, succeeded.
While pedestrians are still not shoulder-to-shoulder on the sidewalks of downtown Manchester as they are said to have been for Thursday night shopping in the 1950s and '60s, there is considerably more activity, day and night, in the city's core district than there was 10 or even five years ago.
The popularity and financial success of the Verizon Wireless Arena, the city's long hoped for but only recently realized civic center, has become so routine it is almost taken for granted. In fact, the arena has become such a fixture downtown that it now seems hard to believe it only opened five years ago this fall.
The city's $25 million ballpark, Merchantsauto.com Stadium, has now been through two seasons of minor league baseball and appears no worse for the wear from tens of thousands of fans trooping through for 142 baseball games, a major league concert (Bob Dylan performed for a summer show there) and numerous fireworks displays. Just behind the centerfield fence is a brand new Hilton Garden Inn Hotel and a long fly ball behind the right field fence and across the tracks is a riverside condo and townhouse development with units selling in the $300,000 range, in an area known for decades as "hobo jungle."
On Elm Street and adjoining roads, new dining and drinking establishments have sprung up, including Italian, Irish, Greek and Vietnamese restaurants and pubs. There is a sports bar with too many TV screens to count. For connoisseurs of fine and high-priced dining, there are restaurants with meals designed for the refined palates and enviable incomes of diners who don't eat out to watch Monday Night football over beer and burgers.
The Verizon, with a seating capacity of a little over 10,000, is the venue for ice hockey, arena football, big-name concert performers like Elton John, Willie Nelson and Cher, the Ringling Bros. and Barnum & Bailey circus, Disney on Ice, the Boston Pops and various entertainment for crowds of virtually all ages, classes and tastes.
Glen Ohlund, the city's new development director, speaks from personal experience when he relates how the arena draws not only Manchester denizens, but residents of other communities into the heart of the city.
Ohlund is a Hopkinton resident who chooses to spend some of his non-working hours in the Queen City.
"I became a season-ticket holder for the Manchester Wolves (arena football) season," says Ohlund. "That gave me an opportunity to experience the great dining opportunities that exist here in Manchester."
From liability to asset
Most of the retail activity that once made Manchester's downtown a shopping mecca has been gone for decades, much of it having moved to open spaces in surrounding towns, along the strip on South Willow Street or out to the Mall of New Hampshire. Sears and other chain stores, and even the downtown's longtime anchor, the locally owned McQuade's department store, have all vanished. But the Verizon, the ballpark and the growing number and popularity of downtown dining establishments have created a new kind of anchor, says Russell Thibeault, a Laconia-based economist who grew up in New Hampshire in the 1950s and '60s.
Ironically, what some critics of the civic center claimed would be an insurmountable problem — the lack of on-site parking — has proved to be a plus, Thibeault says.
"People walk around and go past other things," he says. "It's sort of like the liability has become an asset. Put it all together with the Currier Museum of Art and the Manchester Institute for the Arts, both of which have undergone or are undergoing expansion, and you've got a new anchor for downtown Manchester."
It's a far cry from 1969, when downtown merchants and city officials opposed an effort by Jordan Marsh to open a department store in Manchester. The store instead was built over the line in Bedford. It was a Pyrrhic victory, since Manchester found itself stuck with the worst of to two worlds — a department store that was close enough to attract Manchester shoppers (and with plenty of free parking), yet outside the city limits and therefore beyond the reach of the city's tax collectors.
It served as a wake-up call to the Queen City, however, as city planners and retailers soon adapted to the changing traffic patterns and shopping habits of the highly mobile and increasingly suburban populace.
What was left of fields and farms on South Willow Street soon gave way to shopping plazas and fast-food restaurants, and by the mid-'70s, the Mall of New Hampshire was under construction at the south end of the city.
Retail resurgence?
Meanwhile, the arts, cultural and entertainment venues in the center of the city have reached what might be called "critical mass."
"It's a lot of space for a lot of activities and a lot of bodies," says Thibeault. "That's something you can't do in Bedford or Hooksett. You can't put that cluster of activities in the middle of nowhere." But even with the ongoing expansion of commerce in the arts and entertainment, Ohlund still sees opportunity for a resurgence of retail in the inner city.
"I have not given up on downtown retail," he says. "I think there's a place for it. I don't think it can compete with the malls for the big box retailers. What retailers downtown need to do is focus on convenience, service, specialized products. I think downtown still attracts investment opportunities."
But downtown Manchester may never again enjoy the share of the retail market it had before the proliferation of plazas and malls — both within and outside city limits — changed, perhaps forever, when where and how people shop for the good and services they want and need.
"It was the only place to shop," says Stephanie Lewry, executive director of Intown Manchester Management Inc., a non-profit city organization supporting downtown revitalization.
Lewry sees the resurgence of retail activity downtown as dependent on the growth of residential development in that part of the city.
The Residence at Manchester Place, an upscale apartment high-rise at the centrally located intersection of Elm and Bridge Streets, is an example of the kind of residential development the downtown area needs, Lewry says. The seven-story building is about 60 percent full, she notes, and will likely be near capacity when more retiring baby boomers finally sell their homes in the suburbs and look for the conveniences of life in the heart of the city.
But fluctuations in the housing market will have an effect on how long that will take.
"Right now, I think some of the question is focused on trying to get more people to own condos," says Lewry. "And as soon as houses in the suburbs can be sold, I think you'll see people purchasing apartments downtown."