Major mixed-use project proposed at Rockingham Park
Faro's Tuscan Village plan presented to Salem Planning Board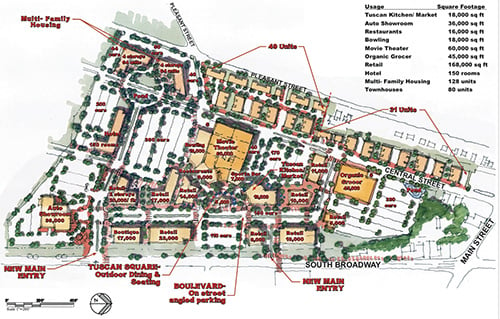 Tuscan Village, a 368,000-square-foot mixed development featuring more than 200 housing units, a hotel, retail and a movie theater, are part of the plans that restaurateur Joseph Faro has for the 50 acres he recently acquired from the owners of the Rockingham Park racetrack in Salem.
The plans were presented to the town's planning board Tuesday night.
The plan includes a 150-room hotel, 128 units of multifamily housing, 80 townhouse units and at least 168,000 square feet of retail space.
The proposal also calls for a 60,000-square-foot movie theater, a 45,000-square-foot supermarket, an 18,000-square-foot bowling alley and 16,000 square feet of restaurant space.
Faro is the owner of Tuscan Brands, which includes the Tuscan Market and Tuscan Kitchen restaurants in Salem, NH, and Burlington, Mass.