Madbury Commons completed near UNH
Student housing/commercial development opens in time for start of semester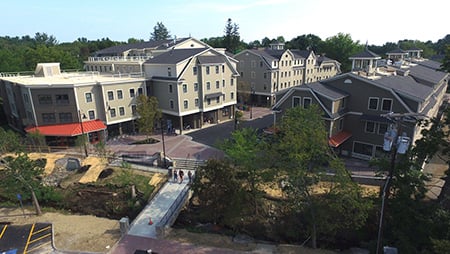 In time for the start of the fall semester, Hooksett-based ProCon has completed construction of Madbury Commons, a student housing development neighboring the University of New Hampshire in Durham.
The mixed-use complex is features 126 student apartments and some 45,000 square feet of commercial retail space.
The buildings sit on 2.6 acres and total 208,000 square feet.
UNH has signed a 20-year lease for 38,000 square feet to house its InterOperability Lab. The lab is expected to move in by December.
Golden Goose Capital, a private equity firm based near Boston that focuses on developing, owning and managing student housing properties near universities, is the developer. Kennebunk Savings is providing the lead financing, TMS Architects of Portsmouth is the project architect. ProCon was the construction manager.
Construction work began on the project in June 2014.