Machine firm likes being small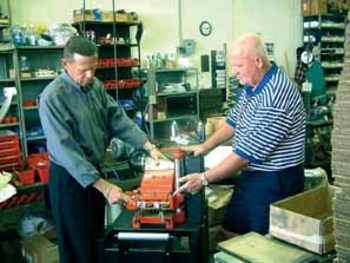 After 50 years of manufacturing and selling its wood-molding machinery and parts all across the United States, Williams & Hussey Machine Co Inc. of Wilton is looking to establish its name and reputation in overseas markets as well.
Like others in its business, the company – which already has customers in Canada and Mexico — is looking to find new markets in "old Europe."
"We just feel there's got to be a market there," said David Doran, marketing manager. Doran and company President Stephen Carter traveled to England last month to take part in a trade show in Birmingham. "They've got a lot of old buildings and there's got to be a lot of restoration going on. We feel it was worth a market investigation to get a little bit of a feel for the market, price-wise."
The company made contacts with potential future customers as well as a distributor interested in selling the company's molding planers in the United Kingdom.
"We've been back a week and have been e-mailing back and forth," said Doran. "Hopefully we're going to tie something up pretty soon, and that'll be great."
Closer to home, Williams & Hussey's machines and equipment are in high school shop classes and in technical colleges around the country. Customers include professional woodworkers and small cabinet shops, as well as Disney World and the federal government. Moldings made with the versatile machine may be found in caskets at funeral parlors as well as in the homes of the rich and famous.
"Our moldings are in custom-built homes for movie stars," said Carter.
And it's hard to beat the exposure the company's W&H Molder has received on a pair of popular PBS shows, "The New Yankee Workshop" and "This Old House."
"That's our product they're using whenever they do wood moldings," said Doran. The product is identified in screen credits at the end of the programs. "People see that and our phones start ringing," Doran said.
Dealing with the EPA
The company, founded by Thurston Williams and Forrest Hussey, began manufacturing in Milford in the late 1930s, though Carter and Doran trace the origins of today's Williams & Hussey to the development of the molding machine and accessories the company created in 1954.
"They sold it to hardware stores like Aubuchon Hardware, and that progressed over the years," Carter said. The company grew in fame when it became the subject of a Popular Mechanics article in the late 1970s. "When it hit Popular Mechanics, we started getting inquiries: 'What can you do? Send information,'" Doran said.
Williams & Hussey had became a division of OK Tool by the time Carter, a former cost accountant with New Hampshire Ball Bearings in Peterborough, joined the firm as assistant controller in 1976.
"Gradually over time, it took off, in the mid-to-late '70s," he said, referring to sales of the company's product line. "They advertised, went to trade shows and hired a Boston advertising agency to get the message out."
Carter rose through the ranks, becoming controller and vice president of the firm. In 1987, he and OK Tool Treasurer Jack Heelon bought the assets of the Williams & Hussey Division and reincorporated it under the same name. The following year, the new owners moved the company to its present location, a 10,000-square-foot site in the Riverview Mill industrial park, off Main Street in downtown Wilton.
"We had the same name, the same people, the same good product," Carter said. "We had a hell of a time getting across to bankers and lawyers that we were a new company, but the same company."
The company, meanwhile, became entangled in EPA litigation over the site it had shared with OK Tool in Milford.
"We were a Superfund site," said Carter. "I couldn't borrow money because the EPA has first rights to any assets. The bank is second fiddle."
In recovering costs for Superfund cleanups the EPA casts a wide net, Carter said, and he personally had become a target of the agency.
"They came after me because I owned something like .005 of OK Tool stock," he said. A settlement was eventually reached with the agency, and the new owners continued with a small staff and low overhead.
"David and I are the staff," Carter said, and the company's 19 employees meet a wide array of customer needs.
"There are advantages to being small," Carter said. "We can respond very quickly to the customers on everything from custom-made knives to technical problems. If we have to make any modifications in machines, if the customer wants a different part, we can customize that … We're flexible and we can make decisions like that," he said with a snap of the fingers.
To the extent possible, company personnel will literally go the extra mile to bring the product or service to a customer.
"One of the nice things about being small is we can even help our customers truck something off," Carter said. "I've hand-delivered products that I've dropped off to people on my way home. Our sales reps get thanks from folks for getting this stuff out so quickly."
American-made
Quality control also is an in-house job at Williams & Hussey. "Every machine that goes out the door is tested right here," Carter said. "If we have any kind of problem, we correct it right on the spot."
Carter likes to deal with other companies that are small, flexible and do their manufacturing here in the United States. He cites Cumberland Foundry in Rhode Island as an example.
The small, family-owned company makes the metal castings that Williams & Hussey uses in its machines.
"If we've got a glitch, I can go down there to see them. Or they make a phone call and I can drive down there. You're not waiting for a boat to come in."
"One of the things our customers really appreciate," said Doran, "is that ours is an American product, made with American parts."
After half a century of success in the United States, that American-made product may soon become familiar to customers across the Atlantic.
"Time will tell, but I think there's a market for it over there in the United Kingdom," Doran said. "There's not another product like ours over there. We have to lay the foundation, and we're working on that."