Loyalty is at the center of Presstek's philosophy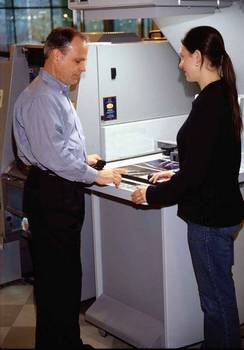 Nearly three decades ago, the founders of Presstek Inc. introduced the firm's first direct imaging printing technology, changing the industry by eliminating the need for photographic darkrooms, film and toxic processing chemicals. Today, nearly all of the 3,000 different types of digital imaging systems available carry Presstek technology.
The printing technology developed at Presstek, including computer-to-plate capabilities, provides for a more efficient, cost-effective and ecologically sound printing process.
Originally driven by its founders' determination to merge current technology with the printing press, Presstek's evolution has been led by a desire to meet the needs of a growing customer base, according to Edward J. Marino, who became president and CEO of the Hudson-based company in 2002 after serving three years as a director.
"We're a technology company, but we're really selling business solutions," Marino said. "We're driven by what's needed by our customers. To be a success, any company has to know their customers really well."
Ongoing dedication to meeting the needs of customers, coupled with a commitment to maintaining a mutually beneficial relationship with employees and a commitment to the local community — which has increased in accordance to Presstek's growth — has earned Presstek recognition as this month's Not Your Typical Business Award recipient.
"Presstek has retained its core principles while growing and transforming itself, and I've watched their involvement with the community grow as their company has grown," said Timothy Whitaker, senior vice president, commercial lending for Citizens Bank, which presents the award each month in conjunction with New Hampshire Business Review.
Much of the growth Whitaker refers to has taken place since Marino became president and began instituting a change in focus from Presstek's traditional technology-driven concentration to that of a market-driven focus.
While Presstek originally relied on others to sell its equipment and consumables, 60 percent of the company's sales are now made directly to customers, said Marino.
The change allows Presstek to address the needs of customers directly, something Julie Greenwood of Kammann Machines appreciates.
"Presstek understands the demands the we face — to deliver a consistent, high-quality, high-volume consumable product to our customers in the printing industry," Greenwood said. "Whether a request for an expedited shipment or technical support is made regarding the PEARLdry Plate Product, Presstek's customer care team has always provided an excellent level of service for the past eight years."
For Marino, the change has made a marked difference in the company's performance, which reported record earnings this quarter, with consolidated revenue of $74.2 million and net income of $2.7 million.
Presstek's 2004 acquisition of office duplicating equipment company AB Dick was another turning point for the firm, which now employs over 1,000 people at facilities in South Hadley, Mass., Tucson, Ariz., Chicago, London and elsewhere in Europe.
The Hudson facility and headquarters is home to administrative offices, research and development, and printing plates and equipment manufacturing.
The caliber of workers and quality of life unique to New Hampshire led Presstek officials to bring all that came with the AB Dick purchase to its 165,000-square-foot Hudson facility.
"We really feel as though we have an excellent situation here in New Hampshire," Marino said. "We have a good labor force, business climate and it offers a good style of living."
Marino is conscious of the importance of Presstek employees and works hard to maintain the company's side of what he has termed the "mutual value covenant."
"As a company we have the obligation to provide our employees with things like income, benefits and growth opportunities. In turn, our employees provide us with a sense of loyalty and a job well done," said Marino, who has even written a book on the subject.
In "The Loyalty Payoff," Marino discusses the importance of loyalty to customers, suppliers and employees as well as the process of developing this critical asset.
Presstek starts health insurance and 401(k) benefits for employees on the first day they start their jobs, Marino said, and every employee has stock options.
For Ken Cassidy, a longtime employee, the ability to be part of a forward-thinking company has played a major role in keeping him at Presstek.
"Presstek's commitment to excellence not only allows us to be a major player in our industry, but it also promotes a positive, dynamic and challenging work environment," Cassidy said, who called it "a progressive and innovative company, providing a stimulating work environment with excellent growth opportunities for employees."
Marino and Presstek employees extend their loyalty to their community as well. Strong supporters of the Boys and Girls Club of Greater Nashua, Presstek also contributes time and money to numerous scholarship programs.
So committed to giving back to its hometown community, Presstek has formed a community service team that works to engage employees in ongoing community efforts.
"We always had the desire to be involved and to give back, but we didn't always have the means," Marino said. "Now that we are on a stable financial footing we are able to spend time and resources on our community. It's been great."