Low-key Seabrook machine company is a 'monster garage'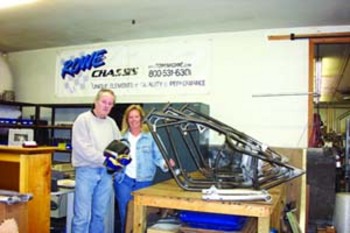 For nearly 30 years, Rowe Machine Company in Seabrook has turned out parts for aircraft, race cars and motorcycles. Now owners Marc and Nancy Rowe have turned their small fabrication business into a "monster garage."
Rowe Machine Company was chosen from shops across the country to be on Discovery Channel's hit show, "Monster Garage," airing at 9 p.m. Oct. 11.
"The host of 'Monster Garage,' Jessie James, wanted to do a show that was very different," said Nancy Rowe. "He was looking for builders with great talent but perhaps didn't get the recognition they deserved."
Instead of the outlandish and just plain strange machines "Monster Garage" usually produces, the Rowes were tasked with taking a stripped 2004 Harley Davidson soft tail and turning it into a classic old-school chopper.
She said her husband Marc was reluctant at first to tape the show. "He is known for his innovation and fabrication ability, but he is so humble." Eventually, she convinced him, and they flew to California for the program.
"We started out doing design work for GE aircraft and did drag racing chassis as a hobby. Turning out motorcycle frames was a natural extension," said Rowe. "We've been doing that for at least 15 years."
She said 80 percent of the custom Harley frames they create go to other custom shops and dealerships for those who want to "build a custom motorcycle from the ground up."
Not all the custom work Rowe Machine does is for sale. One bike in particular, they hope, wins another kind of race – the race to cure breast cancer.
The Rowes were approached to become a part of the Garland Appeal, a non-profit organization created by Paul McCartney after the death of his wife Linda. The Garland Appeal promotes the early detection of breast cancer.
As part of the Garland Appeal, Rowe Machine, along with another cancer support agency, the Caitlin Foundation, helped to launch the "1 in 8 Motorcycle Series," by building a $75,000 custom motorcycle to be raffled off at events throughout the country. According to recent studies by the National Cancer Institute, one in eight women will be diagnosed with breast cancer.
"We were looking for the top bike fabricator in the country, and we looked at a lot of them," said Caitlin Foundation President Ken Vrana. "Within a few minutes after my initial conversation with Nancy Rowe, I knew we'd found our home. Not only can Rowe build the bike we dreamed of, but their willingness to stand up and help us create what we hope will be an annual international series, pretty much says it all."
Rowe said giving back to the community is nothing new for them.
"We've done this before with drag racing. One driver died in an accident and another became paralyzed, so we built cars to raise money for the cause. We love to help the community," said Rowe.